Anders Holm Interview About The Mindy Project Season 2
Anders Holm Is Excited to Work With "Smokin' Hot" James Franco on The Mindy Project
Anders Holm was on hand at Comic-Con to talk about Workaholics, but when we chatted about the show, we had a few burning questions for one of his other roles: Casey on The Mindy Project. Specifically, we wanted to know if he'll be back and still with Mindy, and what he thinks of the recent news that James Franco will be guest starring too. Check out what he said to that, along with how his stint on Mindy has compared to working on Workaholics.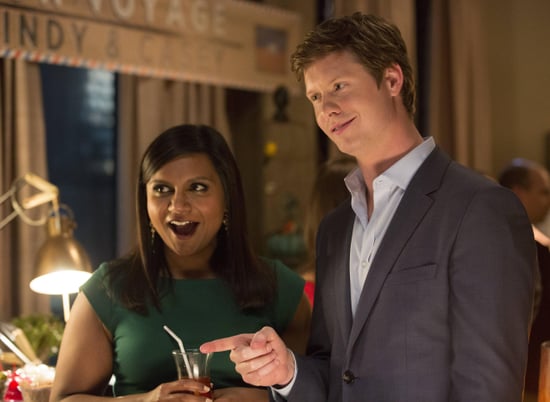 What can you tell us about your character's return to The Mindy Project?
Anders Holm: Casey's coming back. I can tell you that we come back from Haiti, still hot and heavy . . . and that's it. That's all I can say. It's turbulent.
Is it a year later?
AH: Maybe less. Maybe we came back a little early.
Are you excited about acting with James Franco?
AH: Yes, I've heard about me and James Franco hanging out, doing some scenes. I'm excited. The dude's a genius. He's unreal, he's really funny. And he's smokin' hot.
How did you end up getting the guest starring gig on Mindy?
AH: Mindy watches Workaholics, and some of the writers on our show are friends with some of the writers on Mindy, so they were thinking about this character and [Kaling] was like, 'You know, an Anders-y type person,' and then they just asked me to do it, and I said, 'Yeah, I'll do it.' And it's been fun. It's been great.
Do you feel like you have to be on your best behavior on that set?
AH: It's funny you should say that. I don't do 'best behavior.' So yeah, it was a little like, oh, this is a network show, I can't say things that I always say all the time on our set, and it was also interesting not to be around the dudes (Workaholics costars Adam Devine and Blake Anderson) because I don't act much, and to be on a set looking around to see the guys . . . It was weird. But I mean I did five episodes, so by the second one I was pretty comfortable. And they are all awesome and made it like my Summer camp home away from home.