Andrew Garfield as Spider-Man Fan Reactions
Buzz Blabber: Spider-Man's Not So Sexy After All
Earlier this week we oohed and ahhed over the first photo of new Spider-Man Andrew Garfield all suited up. As it turns out, it seems that many of you aren't exactly hot for Spidey — in fact, many of you think he's pretty low on the sexy superhero totem pole. Find out what your fellow readers had to say about it, plus a few more debate-worthy topics from this week's news.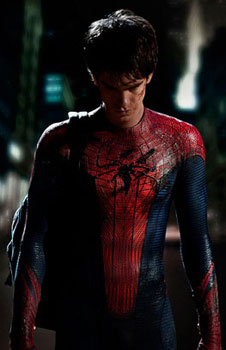 Is Spider-Man the least sexy superhero?
"I've never thought of

Spider-Man

as a sexy superhero, he seemed like a geek, maybe even a bit gay (like the non-flamboyant gay best friend). — zeze
"Spider-Man can't be sexy to me, regardless of the actor playing him. He always seems too much of a school boy to be sexy. It feels like it should be illegal to even use 'sexy' and 'Peter Parker' in the same sentence. — postmodernsleaze
"Batman is sexy. Spider-Man? Not so much." — krispin
More topics including The Girl With the Dragon Tattoo and Joshua Radnor when you
.
Fans sound off about The Girl With the Dragon Tattoo movie
"I want to give the American adaptation a chance, but it just seems so wrong to adapt a Swedish book series for US audiences so soon after the Swedish films were released. The cynic inside me feels like this is yet another example of the US tendency to take over something that doesn't belong to us and then do what we do best, dumb it down (no subtitles, those are too confusing for mainstream audiences), commercialize it, change it (a new ending? Really?!), and no doubt water down its complexities. I hope I'm wrong, and with Fincher's track record, maybe I am." — Tara Sharp
"I finally finished the book last night and was satisfied with the ending, but I am intrigued to see what they do with it in this movie. Next on my list is the original movie. But definitely not digging the Salandar tattoo, I feel like her tattoos are a little more obscure than that." — KWM
"I'm with Tara — I really hope that Fincher doesn't mess the series up. I'm wondering how he's going to deal with the more problematic parts of the book and Salander's personality . . . will she be made Hollywood sexy and sassy (and lose the Asperger's)?" — Elka Karl
Josh Radnor's Happythankyoumoreplease: Yes, please!
"I just watched the trailer and it's so not HIMYM the movie. Looks good!" — DCBaxter
"I really like him and this look very good, so I definitely will check it out." — pss
"Looks cute! I love HIMYM, so I'm definitely a fan of his." — Phorrest99