Andy Samberg New Show Brooklyn Nine-Nine Info
How Parks and Recreation Brought Andy Samberg to His New Show
Brooklyn Nine-Nine might very well be your favorite show — not only is the pilot hilarious, but star Andy Samberg is making his primetime debut, and it's created by the people behind Parks and Recreation and The Office, Mike Schur and Dan Goor. The showrunners and stars, including Samberg, Andre Braugher, Terry Crews, and more, stopped by TCA to talk about their comedy, specifically how silly it will be, what it will have in common with Parks and Rec and The Office, and whether Samberg and friends will get to improv.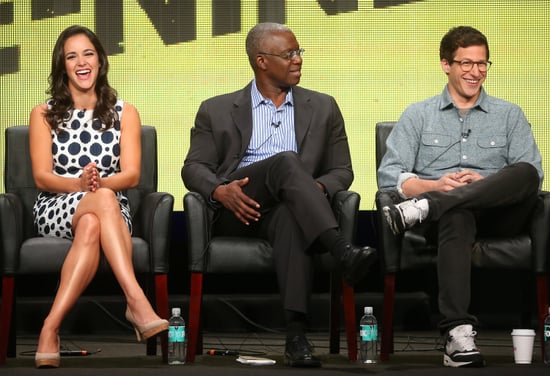 First and foremost, this is a comedy, but it won't be too silly, starting with the cases and Samberg's cop character, Jake. He's good at his job, Schur assured us, and Samberg said that's "important for the show to work, otherwise why do you care?" Not that he's taking himself too seriously; Samberg still described his character as a "comedy McNulty," citing Dominic West's character on The Wire, then "when he's being kind of a jackass, you can forgive him more." As for the cases they'll cover, there will be both silly stories and "murder-y stories," according to Goor.
A love of Parks and Recreation is what brought Samberg to Brooklyn Nine-Nine; he said, "I was a huge fan of Parks and I saw what they did with Amy [Poehler], who is basically my hero and idol," he said. He complimented the writing, saying it's also nice to have left SNL behind — and writing for himself. Of the scripts, Samberg said "I would write jokes like this, but they're better, and I get to look cool doing them."
Schur and Goor decided that Brooklyn Nine-Nine needed a running joke, the same kind that's worked well on Parks and Recreation and The Office. For The Office it was Michael Scott saying "everyone in the conference room," and on Parks and Rec, it's the public forum. For Brooklyn Nine-Nine, it's the cops doing "door duty." Schur said it seemed like a good opportunity to use their (and Samberg's) funny friends — like Fred Armisen, who appears in the pilot. Expect more familiar faces to pop up during those "door duty" scenes.
Saturday Night Live vet Samberg was asked how much he gets to use improv, and though he assured us the writers are hilarious, we might get some ad-libbing. They shoot it exactly as it's scripted a number of times, Samberg said, then "cut loose to try some stuff." It sounds like some improv makes it. "The spirit of the show is irreverent and silly, and that vibe is in there when you're doing improv . . . I wouldn't be surprised if that stuff squeaks in," he said.