Animal Practice TV Show Review
Pilot Scoop: Animal Practice
The Fall TV season is edging closer, and we're taking a break from Summer shows to check out the new pilots. I was particularly intrigued when I found out Justin Kirk would be starring in his own sitcom on NBC, Animal Practice, since Weeds is about to come to an end. On Animal Practice, he plays veterinarian George Coleman, whose world is thrown into turbulence when his ex steps back into his office — and his life.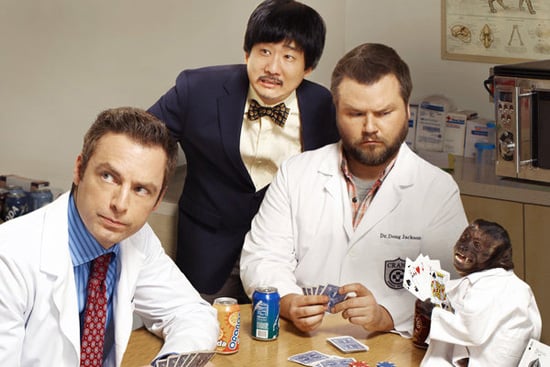 What it's about: Dr. George Coleman is a great vet and gifted with his animal patients, but he's slightly less receptive when it comes to people. Though he's happy hanging out with his slightly off-kilter coworkers and watching horse races, George gets a dose of reality when his ex Dorothy (Amy Huberman) comes in to run the practice.
Where it works: The zany sidekick isn't a fresh sitcom element, but I love Reaper's Tyler Labine. He plays a fellow vet and adds a little bit of down-to-earth comedy to the show.
Where it doesn't: It's just too silly for words, and all the animal hijinks made me feel like I was watching a parody of a TV show (not to mention the ridiculous animal metaphors).
When it's on: Wednesdays at 8 p.m.
You might like this show if: You've been secretly hoping Justin Kirk would get his own show.
To see a preview of Animal Practice, just keep reading.