Animal Practice TV Show TCA Panel
Why Crystal the Monkey Is the Biggest Star of Animal Practice
The cast of NBC's Animal Practice includes Justin Kirk and JoAnna Garcia, but the charming actors were easily upstaged by their costar Crystal the monkey at the TCA panel for the new sitcom. As the cast chatted about the kooky series set in an animal hospital, it seemed like everyone wanted to talk about Crystal even though she wasn't there — until she showed up in the most dramatic fashion: riding on a mini ambulance! Find out about her grand entrance and why the cast treats her like she's the biggest star on Animal Practice.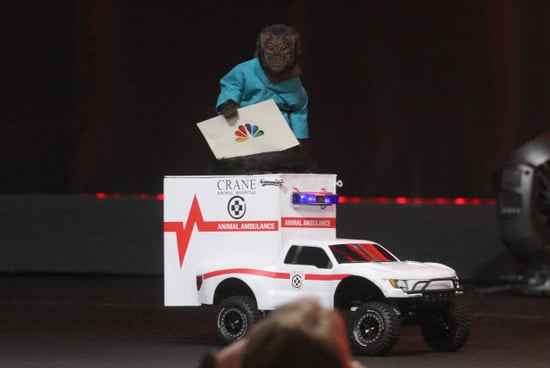 By now, Crystal has a lot of credits under her belt, including The Hangover Part II and We Bought a Zoo, and her fame is not lost on Kirk, even though he's the (human) star of the show. He said, "She's just super cool. She's the most famous monkey in Hollywood, so you try to be cool around her."
Garcia gives credit to Crystal's professionalism: "She hits her mark, certainly better than I do."
Kym Whitley, who plays a nurse, is already feeling competitive, joking, "I put it in my contract not to be in scenes with her because she is a scene stealer!"
And just when we thought that Crystal was going to be a no-show to the panel, a loud siren blared from the side of the stage, and out she came, driving a miniature ambulance and wearing scrubs. It's the cutest thing to happen at TCA so far, and I can absolutely see why Whitley called Crystal a scene stealer.
To see more pictures from the panel, just read more.