Anna Karenina Movie Review
4 Reasons to See Anna Karenina, Even If You Don't Like Period Pieces
Keira Knightley plays the titular Anna Karenina in the adaptation of Leo Tolstoy's classic novel, from director Joe Wright (her third collaboration with the filmmaker). The drama depicts the fall of Russian socialite Anna, who goes from respected wife of Karenin (Jude Law) to disgraced mistress of the younger, dashing Count Vronsky (Aaron Johnson) over the course of the film. Knightley is right at home in the trappings of a period piece, but the 19th-century high-society setting might be a turnoff for some moviegoers who don't love costume dramas. However, Anna Karenina has more to offer than meets the eye — just check out my reasons.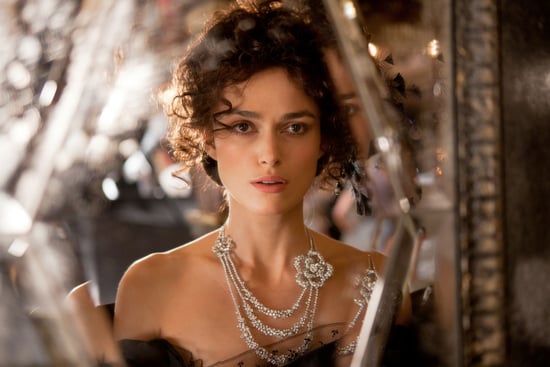 It's beautiful. The film is a visual feast, boasting saturated colors that are best exhibited by the gorgeous costumes. Knightley and her costar Alicia Vikander swan around in elaborate dresses and furs, and they participate in highly choreographed dancing that's both true to the time and mesmerizing to watch. Wright also uses a cool, innovative technique to transition scenes and settings, using curtains and theater sets to make it feel like you're watching a play.
It's sexy. Anna Karenina revolves around an affair, and when things heat up between Anna and Count Vronsky, the chemistry is palpable. Knightley and Johnson have an electric attraction that jumps off the screen, and their interaction also looks great (remember how I said the dance sequences are highly choreographed? The same goes for the love scenes). Stolen kisses, furtive looks, puckered lips — the audience is seduced by the sensual elements as much as Anna is by Vronsky.
To find out what else I liked about Anna Karenina, just read more.
The acting is amazing. Knightley has turned in more than a few stunning performances in her career, and with Anna Karenina, she shows off growth as an actress and the maturity required to play such a complicated character that you alternately like and dislike. Her male costars are formidable as well, particularly Law as a man who can't completely hate his cheating wife but is heartbroken and obligated to the strict social guidelines of the time. To top it off, there's a beautiful performance by Domhnall Gleeson as a man who struggles with his feelings and beliefs about love and how relationships should be.
It's funny. Matthew Macfadyen plays Anna's brother Oblonsky, and he's the movie's resident scene-stealer. Oblonsky is boisterous and gluttonous and has a hard time staying faithful to his wife; he's a controversial character, but so funny. Screenwriter Tom Stoppard (who wrote Shakespeare in Love) provides plenty of humor for the rest of the cast — not something you'd expect from one of literature's most tragic stories.