Anne Hathaway Interview at Oscars Luncheon
Anne Hathaway Talks About Her SAG Wardrobe Malfunction at Oscars Luncheon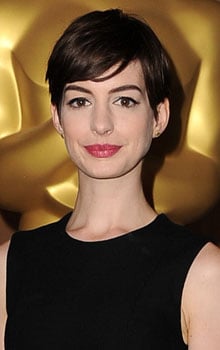 Today's Oscars luncheon was graced by best actress nominee Anne Hathaway, who admitted that she hasn't necessarily been thinking about what she'll wear on Oscar night because she's had more important things (namely, food) to think about. The poised Les Misérables star also talked about a dress mishap she almost had this award season and how she avoided it.
On whether she has picked a dress for Oscar night: "I need to get on that, don't I? No, no preparation; I definitely have some ideas, some cool options. But no specific plans yet, no preparation. It was the Super Bowl — I couldn't think about dresses with all that delicious fried food around."
On almost having a wardrobe malfunction recently: "I'll tell you the most stressful moment for my stylist. Apparently, before the SAG Awards — and she didn't let me know about this, because she's a baller — but apparently my zipper broke. We had tried on the dress and she said, 'Oh you know, it's a funky little zipper. I don't want to do it up right now.' She made up some excuse and I didn't think about it, and she didn't tell me about it until the next day, that apparently we almost had a full-blown disaster on our hands. She's a magician; she made it work."
On previously not having access to things: "I don't know how to say this without sounding so obnoxious, but I've been hanging out with Steven Spielberg lately. I don't take anything for granted. I've been given extraordinary opportunities, I've also fought for extraordinary opportunities. So I don't believe you're ever just there in this golden moment. You probably always have to remind people that you're there, that you have something to offer, maybe something beyond what they could imagine for you. I also think that's part of being an actor."