Announcing the 2010 PopSugar 100 — Robert Pattinson's Amazing Repeat Win Scores Number One Spot!
Announcing the 2010 PopSugar 100 — Robert Pattinson Scores Number One Spot in Amazing Repeat Win!
Welcome to the 2010 PopSugar 100! It's been a spectacular ride as we once again let you the readers narrow the group of 128 qualifying celebrities all the way down to the number one pick with our bracket. The addictive format had readers voting on everyone from Jennifer Aniston to Kristen Stewart to Ryan Reynolds. From there, we calculated an unprecedented amount of votes to put together our fourth annual PopSugar 100 showcasing the biggest stars in Hollywood. Newcomers skyrocketed straight up while some of our forever favorites remained in the top 10. It came down to the epic matchup of last year's champion Robert Pattinson against Sandra Bullock and her incredible 12 months. In the end, Twilight fans proved their love, and Rob is once again number one!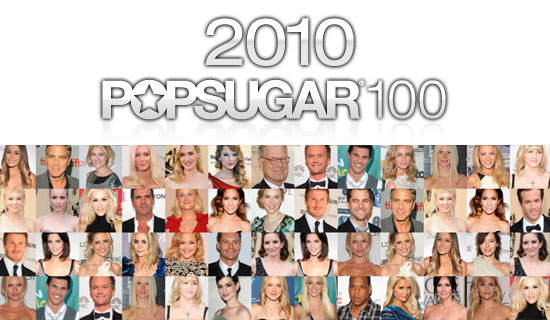 Check out the slideshow and at any time the sidebar can show you last year's lists or sort it by fans, comments, and the Pop Factor to see where everyone lands. Thanks to everyone for all your votes, once again putting together a list like no other — click to see the most exciting PopSugar 100 yet!
Check out some fun facts and the top five, just
.
Most Commented: Robert Pattinson
Most Votes: Robert Pattinson
The Top Five:
1. Robert Pattinson
2. Sandra Bullock
3. Reese Witherspoon
4. Ryan Reynolds
5. Jennifer Aniston
Fun Facts:
Robert Pattinson is the only repeat winner!
Sandra Bullock's jump from not being on the 2009 list to number two is the second biggest leap ever, topped only by Robert Pattinson who went from not included on 2008 to number one in 2009.
Other notable movers include Dakota Fanning and Emma Watson who debuted on the list at 14 and 15 respectively.
Jennifer Aniston is the only woman to have a spot in the top 10 for four years running, joining Brad Pitt, George Clooney, and Johnny Depp.
Angelina Jolie is at number 17 for the second year in a row, narrowly missing the Sweet 16.