Anthony Bourdain No Reservations Celebrates 100th Episode
Buzz In: What's Your Favorite Travel Show?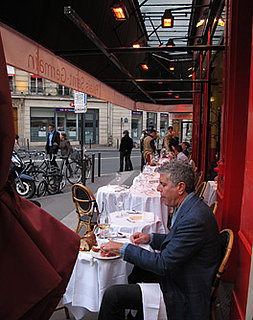 One of my favorite travel shows, Anthony Bourdain: No Reservations, marks its 100th episode on the Travel Channel tonight as its irreverent host heads to Paris for the perfect meal. For me, the exotic locations are what make No Reservations stand out amongst other food shows. (Well that, and Bourdain being the charming curmudgeon that he is).
On that note, as a TV fanatic, I often feed my travel urges by turning on the TV (it's much cheaper than a plane ticket). Sometimes I'm in the mood for the less-controversial Samantha Brown, other times I want the heartier fare of Man v. Food (to see the places host Adam Richman goes more so than watching him shovel food in his face). Do you have a favorite travel show?