April and Andy Get Married on Parks and Recreation
April and Andy's Parks and Rec Wedding — Too Cute or Too Soon?
When April and Andy confessed their love for each other during the Harvest Festival on Parks and Recreation, I thought the writers were unnecessarily rushing their fledgling relationship (they haven't even been together for a whole season yet!). Well, little did I know that their romance was about to take an even bigger step, as the intern and shoe-shiner threw themselves a surprise wedding on last night's episode.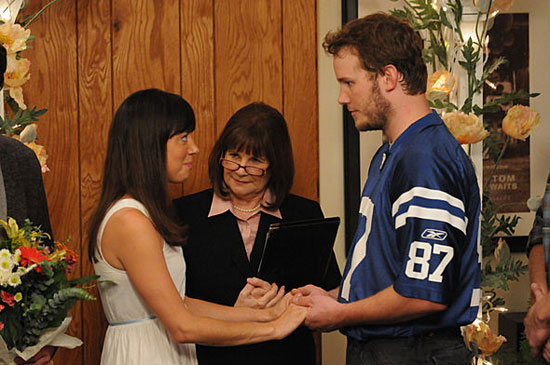 I was even more confused than Leslie was when April and Andy actually went through with the ceremony (and headed straight to their lake house honeymoon). I've always rooted for these two, but throwing them into a marriage after one month of dating feels a bit like jumping the shark. Parks and Rec is just hitting its stride in the third season, and I'm a bit nervous about where these characters will go from here. What's your take on their quick nuptials?
Photo courtesy of NBC