Arcade Fire Interview About Their Grammy Win For Album of the Year
Arcade Fire Talks About Their Grammy Album Win in "the Age of the iPod"
Arcade Fire were still riding on a high when they came back into the Grammy press room. Not only did tonight mark the indie rock band's first performance at the famed award show, but they also beat out Lady Gaga, Eminem, and other high profile artists for one of the biggest honors of the night: album of the year.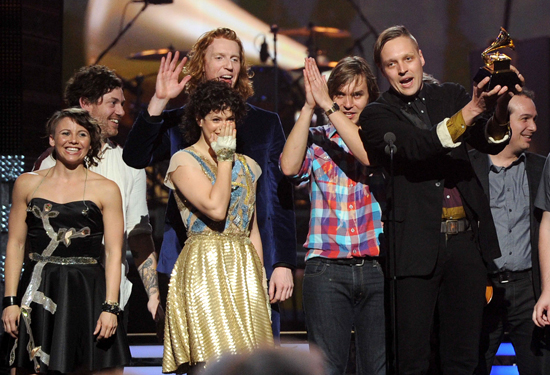 No one was more surprised than the Montreal-based group. As they approached reporters, they began by happily humming the graduation march to announce their arrival, before taking questions about their win and what exactly it means for their music.
On how surprised they were to win:
Will Butler: "Were we more surprised than Barbra Streisand or less?"
Win Butler: "Equally."
Richard Reed Parry: "And the winner is...the...the..."
Win: "We were very surprised. It was shocking. I said it earlier, but that idea never even entered my mind even in the slightest bit at any point in my life, until when they said the name of the album."
On winning album of the year:
Win: "This award is for our record, and we really believe in records, records have really changed our lives, music has changed each of our lives, so when we make a record we really put all of our soul into it. We work so hard. So to be recognized for that...
Richard: "In the age of the iPod no less."
Win: "In the age of the iPod or the age of the single, whatever it is. We still really care about records, so it means a lot to us."
On what the win means for their career:
Richard: "I think it's hard to say exactly what it actually means in terms of career, but it just feels really amazing for us to be invited to something bigger than we thought we could really be invited to."
On the importance of still playing small venues:
Win: "Yeah, we played a show for about 500 or 600 people last night in L.A., and it was like a show we would've done six years ago. And as happy as we are tonight, it's the same feeling of playing and connecting with people. This is more like from outer space, but they're definitely flip sides of the same coin."
On how their hometown of Montreal influences their music:
Win: "There's such a beautiful art scene and music and dance, and a lot of creative forces there, so I think everything our band is kind of came from that city."
On the inspiration behind their music:
Will: "We always just try to go out and have normal lives. That's the cheapest way to get it. And the second is probably Neil Young and the third is Depeche Mode."
On how they're going to celebrate:
Win: "Press conferences!"
Richard: "Answering lots of questions!"