Will Arnett and Christina Applegate on Up All Night
Will Arnett, Maya Rudolph, and Christina Applegate Swap Parenting Stories and Talk Up All Night
NBC's new comedy Up All Night took the stage at the Summer TCA, bringing three very familiar faces with it: Will Arnett, Maya Rudolph, and Christina Applegate. In the series, Applegate and Arnett play new parents who are trying to balance work and family while staying true to themselves. Rudolph plays Applegate's boss, though that's not going to stop her from sharing her parenting stories in the writers' room. In fact, the running theme of the panel was how they're connected by parenthood. Here's more from the panel: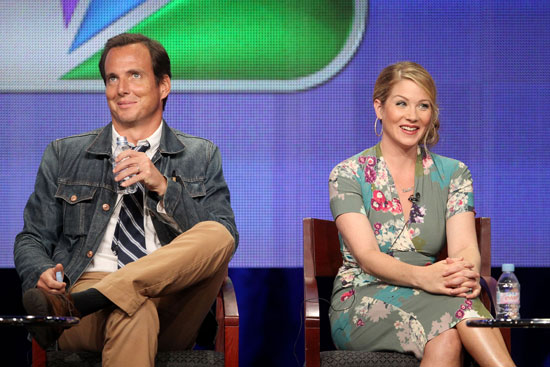 The writers and showrunners are expecting to draw a lot of material from their own experience as parents. Rudolph said, "I've got three kids so I'm a crazy person. I've got stories to give stories to stories. The funny irony is that I'm the one without the kid on the show, but that won't stop me from chiming in."
Applegate quipped that her own daughter, Sadie, isn't as calm as the twin actresses who play her small-screen daughter. She also added that art is definitely imitating life, saying, "I'm still a mom who's up all night with her kid going to work. It definitely parallels a great deal."
Rudolph's onscreen persona will be that of a talk show host, not unlike Oprah. The rub? She'll be out of control backstage but totally in control for her show. Sounds like the perfect dichotomy for Rudolph, who spent plenty of time honing her Oprah impression on Saturday Night Live.
Applegate says she can especially relate to her character's need to stay hip even as a parent. She said, "I gave birth to my daughter at 39 years old, so I had many years of being completely self-obsessed and self-absorbed and doing what I wanted to do. There's a generation of people 39-40 who still say 'dude' a lot. I don't know if we've grown up entirely. I still feel like I'm in my early 20s. That's what these characters are — these sort of 'later in life' parents."
Arnett is returning to the TCA just one year after Running Wilde premiered (and was quickly canceled). It wasn't in his plan to give the small screen another shot so soon, but he said, "I wasn't really thinking about doing anything this year but I read this script and I immediately thought, 'Yeah this is something I relate to.' So whatever sort of limits I'd set for myself, they were immediately thrown out the window."
To see some more photos from the panel, just read more.