Will Arnett, Lea Michele, Jane Krakowski on Scoring Emmy Nominations 2010-07-08 12:05:11
Will Arnett, Lea Michele, and More Talk Emmy Nominations!
I'm already giving my two cents about this morning's Emmy nominations, but I'm sure you're all more interested in what the actors and actresses had to say about their nods. As expected, funny people Will Arnett and Tina Fey threw in a few jokes, but everyone sounds grateful. All day, the stars have been sharing their reactions, and here's a few that they shared with us: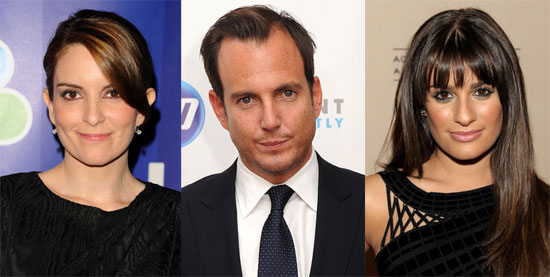 Will Arnett: "I'm Running Wilde with excitement. I can recall all the times I thought, 'Man, it's TUESDAY at 9:30, I hope 10 years from now I can say I have a show THIS FALL, on Fox,' and be referencing something I'm proud of."
Lea Michele: "I am beyond honored and thrilled to be nominated. The other women in this category are extraordinary actresses that I respect and admire. To be a part of Glee is a dream come true and the fact that the Academy acknowledged us in this way makes that dream even more surreal."
Tina Fey: "This is great and exciting news. Also, this seems like an appropriate time for me to announce to NBC that I will not be renewing my contract . . . with my gym."
Sofia Vergara: "I was so excited to announce that my show was nominated but to hear I was nominated was a huge shock! I am so honored to be in the company of all these amazing women. I feel like I've already won!"
To read more from Jane Krakowski, Neil Patrick Harris, and others, just read more.
Neil Patrick Harris: "They announce the nominations so early in the morning, that this year I just stayed up all night and had an Emmy rave. So I must say, I'm deeply honored to be nominated, and also, my hair feels so amazing!"
Julia Louis-Dreyfus: "I was relieved to see that the Academy spelled my name right and as I am now a free agent, Lebron [James] and I will be announcing our plans later this evening."
Rose Byrne: "I'm very flattered the Academy has recognized my performance. Being a part of Damages has been such a wonderful gift. I'm grateful to Glenn, Tate, KZK, FX, Sony, the writers and all my fellow cast mates for their support. I have loved every minute of playing Ellen Parsons and there's no one else I'd rather spar with than the incomparable Glenn Close."
Jane Krakowski: "This is such exciting news! It is such an honor to be included in this group of funny talented women! I am indebted to Tina Fey and the greatest comedy writing team on television. I am going to celebrate by eating a piece of cheese. Just kidding designers, I promise, no cheese will cross these lips or hips until after the ceremony."
Elisabeth Moss: It's amazing to be nominated again for an Emmy, and I'm so proud of the show's 17 nominations. We have come such a long way from our pilot, and we never get used to being nominated. It's like the first time all over again! It's a great boost for the crew who is working so hard on season 4, and there will be a lot of celebrating amid the work on set today!