Arrested Development Episodes to Watch Before Premiere
5 Arrested Development Episodes You Need to Watch Before the New Season
Arrested Development returns this Sunday when the fourth season of the former Fox show will debut on Netflix. Considering that it's been nearly seven years since the series was on the air, some fans may have forgotten about the show's key episodes and funny moments. Luckily, we've put together a guide of the top five episodes you should revisit before you start streaming the new season. All of the show's episodes are currently on Netflix, so there are no excuses for missing out on these funny moments!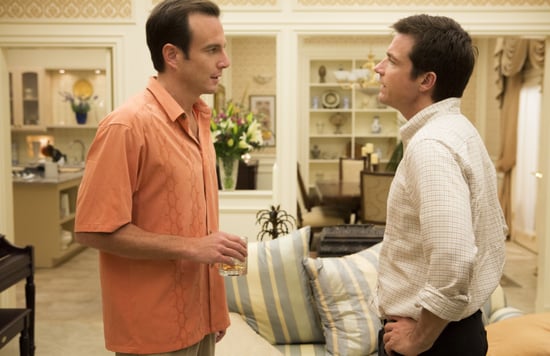 "Afternoon Delight" (season two, episode six)
Why it's a standout: This is an all-around great episode, but it is perhaps most notable because it gives birth to Gob's "Come on!" recurring joke. George Sr. leaves his collection of designer suits to Gob, who is acting as the president for the Bluth Company, and dressing up in luxury fabrics goes straight to Gob's head. He starts to mock his employees, telling one, "Oh, yeah. The guy in the $4,000 suit is holding the elevator for a guy who doesn't make that in three months. Come on!" And thus, a meme is born.
Other notable moments: Gob wears a banana suit for the company's second Christmas party, Michael and Maeby learn that they should read the lyrics to Starland Vocal Band's "Afternoon Delight" before singing it at a company karaoke event, and Lucille inadvertently eats a pot brownie and runs over the banana stand.
Keep reading to see the other standout episodes.
"Pier Pressure" (season one, episode 10)
Why it's a standout: Who could forget about J. Walter Weatherman and the importance of always leaving a note? We learn that George Sr. used a one-armed employee to scare his children into learning minor life lessons. In a flashback, George stages an elaborate scene that involves a man, played by J. Walter, losing his arm. After the kids are scared, J. Walter drags himself over to them and says, "And that's why you always leave a note."
Other notable moments: Buster asks the "coolest kid he knows," George Michael, to buy him $225 worth of pot, Maeby and Lucille team up to make Lindsay jealous, and Michael employs the Hot Cops to scare George Michael.
"Top Banana" (season one, episode two)
Why it's a standout: This is only the second episode of the series, but it sets the tone for the kind of humor that fans can expect. The show's biggest recurring joke, that there's "always money in the banana stand," starts on this episode. While locked up in prison, George tries to hint to Michael about money being stashed in the banana stand. However, Michael misinterprets him and later decides to set fire to the stand with George Michael in a rare streak of rebelliousness. We later learn that George had lined the walls with $250,000 in cash.
Other notable moments: Tobias auditions for a "Fire Sale" commercial but the job goes to Lindsay, and Michael asks Gob to mail a letter, which he tosses into the ocean.
"The Ocean Walker" (season three, episode six)
Why it's a standout: The entire Wee Britain arc is a standout, but this happens to be our favorite because it features Charlize Theron's character, Rita, at her best. Michael and Rita get engaged, and the family tries to break them up until they learn that Rita is incredibly wealthy. However, they also discover that she is mentally disabled (aka, a "MR F"), which they try to hide from Michael so they can get access to her funds. Luckily, Michael finds out the truth after Rita has charmed the entire family. This episode also features one of the best "On the next Arrested Development sequences," after Rita walks across a pool (thanks to one of Gob's "illusions") in a touching moment.
Other notable moments: Rita's "tiny teddy," the reference to Charlize in Monster, and Buster damaging a car while dancing to "Mr. Roboto."
"Meat the Veals" (season two, episode 16)
Why it's a standout: Perhaps the most important part of this episode is being introduced to Gob's racially insensitive puppet, Franklin. We learn that Gob initially brought Franklin into his magic act years ago to appear hip, but he was forced to put Franklin away after he got "beat up outside a club in Torrance" for the puppet's racist remarks.
Other notable moments: George Michael wants to get "pre-engaged" to Ann, Tobias dresses up as Mrs. Featherbottom in an effort to stay in Maeby's life, and Ann's mom is unexpectedly attractive.
Honorable mentions: "Pilot" (season one, episode one) and the then-series finale, "Development Arrested" (season three, episode 13), which both offer bookends to the series when it was on broadcast television.