Arrow TV Show Review
Pilot Scoop: Arrow
The CW is adding an action-packed superhero drama to its Fall slate with Arrow, based on the DC Comics character Green Arrow. Stephen Amell plays the hooded archer, who is a vigilante by night and a rich playboy by day. Keep reading to find out if the series sounds like something you may want to watch when it premieres tonight.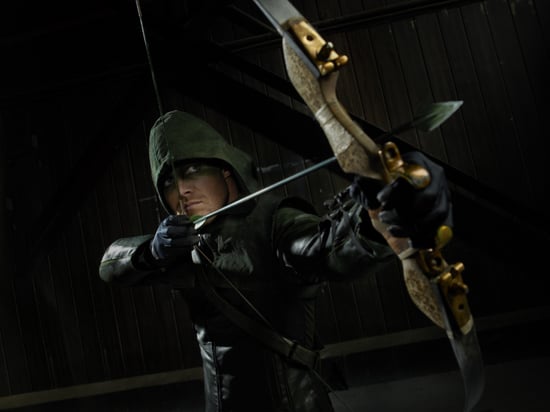 What it's about: Oliver Queen (Amell) resurfaces a few years after being presumed dead in a shipwreck. When he's returned to his home, he has a big secret: he learned quite a few deadly skills on the island he was marooned on (including the titular bow and arrow), which he can now use to fight crime. What happened to him on the island isn't the only skeleton in his closet, though; before he disappeared, he was an irresponsible party boy cheating on his girlfriend (Katie Cassidy).
Where it works: The action of the pilot is exciting, especially Amell's physical feats when he's acting as his alter ego. Plus, his scandalous backstory is as soapy as the other guilty-pleasure shows The CW is known for.
Where it doesn't: Cassidy and Amell don't have much chemistry, and it's clear that he's supposed to want her back, even though she's understandably angry at him. Also, Oliver's disguise mostly consists of a hoodie, which doesn't exactly create a shroud of mystery.
When it's on: Wednesdays at 8 p.m. on The CW.
You might like this show if: You hate waiting for a new superhero movie to come out.
See some pictures and a preview of Arrow after the jump.