The Artist Movie Review
4 Reasons Why You Should Give The Artist a Chance
The Artist, which is now out in wide release, is mostly silent, set in the '30s, and doesn't have a great deal of huge stars (John Goodman and James Cromwell are two of the biggest names, and they're only in supporting roles). That may not sound super appealing to the majority of the movie-going public, but after being delighted by the film, I hope that people won't shy away from seeing it. The film is a magical throwback to another era that I urge anyone who loves movies to see. Here are four reasons to give The Artist a chance.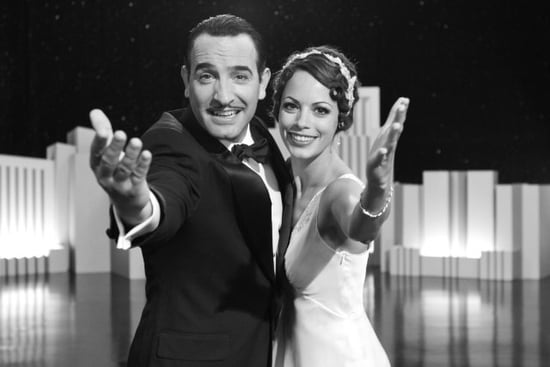 It's not totally silent. True, the characters almost never speak aloud, but there is a musical accompaniment to nearly every scene, and there are occasional title cards to tell you what the characters are saying. So don't get caught up thinking that because it's "silent" you'll be bored — you won't be.
It's not like anything you've ever seen before. Few people from my generation have ever seen a silent film, but that's not the only reason why it's an interesting experience at the theater. The movie is about the film industry's transition from silent movies to "talkies," and it borrows film techniques from each. It's fun to see the aforementioned title cards, and then when you do hear certain sounds, like a glass being set down, it's like you're experiencing talkies for the first time.
You'll want to meet these new stars. The performances in The Artist are fantastic, especially considering the acting challenge of being silent. The actors rely on their expressions and physical acting (meaning lots of dancing!), and when they deliberately take it over the top, you're charmed by them. You'll also want to meet the two magnetic leads, French actors Jean Dujardin and Bérénice Bejo, because I predict you'll be seeing more of them in the future.
The award buzz is deafening. The Artist has been scoring big with nominations for the Golden Globes, the Spirit Awards, and Critics' Choice. It's pretty obvious that The Artist is a shoo-in for Oscar nominations, which are just around the corner.
Photo courtesy of The Weinstein Company