Ashton Kutcher's Haircut Is For Two and a Half Men
Ashton Kutcher Explains That His New Look Is For Two and a Half Men
Ashton Kutcher took the stage at the Winter TCA today with the rest of the cast of Two and a Half Men, plus creator Chuck Lorre, to talk about the current state of the CBS series. Kutcher's new haircut and clean shave were in the spotlight, and he revealed that the new look is going to be a plot point on the show. Lorre also talked about Charlie Sheen, and Kutcher's costars Jon Cryer and Angus T. Jones also chimed in about the comedy series.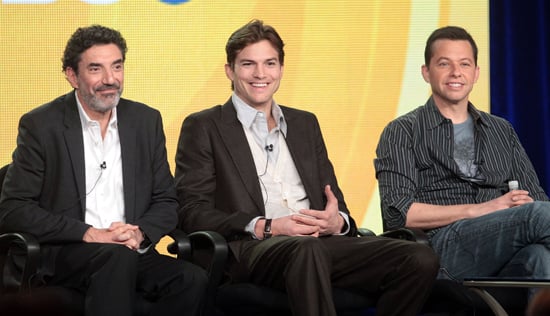 Kutcher's scruffy beard and long hair were missing when he took to the stage, and a reporter asked him to explain the clean-cut look. It sounds like it's Walden's fault he's cleaned up: "It's related to the show completely. Tune in Monday." As to why Walden was introduced to the show with long hair and scruff, Kutcher explains that that's just how he looked when the show started: he "was starting to get shaggy," so "we just kind of kept it," but it was always planned that Walden would get cleaned up. After being "shaggy" for so long, Kutcher says that "it's pretty funny" looking in the mirror now.
Lorre was asked about former star Charlie Sheen, whom he famously feuded with last year. He had kind words, saying, "I wish him well . . . I'm glad he's sober and happy and healthy." He also admitted that he "absolutely considered" ending the show when Sheen left, and when asked what changed his mind, he pointed next to him and replied: "Ashton Kutcher."
Kutcher was asked to compare Walden with his That '70s Show character Kelso, and mentioned that Walden is "quicker, smarter, and brighter" than Kelso, but he thinks the comparisons are mostly due to his acting. "I'm sure I have my own comedic tone and delivery" and it's "probably that overtone" that people are responding to.
Cryer said that "the Walden/Allen relationship is completely different," than the one between Allen and Charlie in one distinct way: "They're friends." Jones humbly explained how things have changed for him, saying "I'm really just along for the ride. I just go to high school, do normal things."