Author of Mary Poppins, P.L. Travers | Biography
The Unconventional Life of the Woman Behind Mary Poppins
Author P.L. Travers earned a permanent place in most of our childhoods with her beloved character Mary Poppins, but the story of her own life is in many ways just as mysterious and surprising as that of her fictional nanny. The upcoming film Saving Mr. Banks tells the story of the unlikely collaboration between Travers and Walt Disney (played respectively by Emma Thompson and Tom Hanks, pictured below) as they adapted her book for the big screen. The film gives us a glimpse at some of the author's backstory and eccentricities, but there are also many compelling details and anecdotes about her unique life and unforgettable work that didn't make it into the movie. Read on for more about the woman behind Mary Poppins.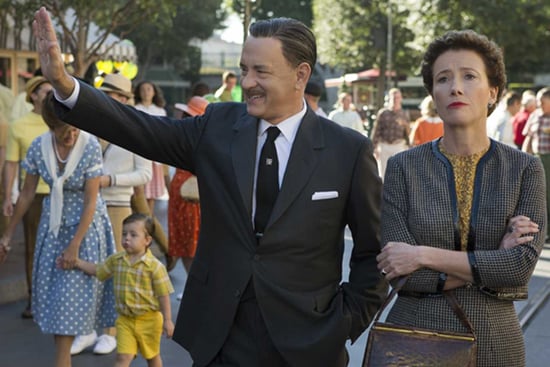 It took Disney 20 years to talk Travers into the Mary Poppins movie
As Saving Mr. Banks illustrates, Disney spent years courting Travers via letters and calls, hoping to fulfill a promise he made to his two daughters to bring their beloved Mary Poppins to the big screen. His bid to convince Travers he would do Mary justice took nearly two decades. Travers was a tough costumer, but eventually caved to Disney's pleas, flying to Los Angeles for two weeks to work on the script at the studio and eventually signing over the rights.
She's thought to have had relationships with men and women
For a woman in 1920s and '30s England, Travers had an atypically open attitude toward sex and love. She struck up an affair with a much older married man when she was in her 20s, and a few years later lived with a woman, Madge Burnand, for a full decade. Travers stayed tight-lipped on the nature of their relationship, but many historians believe that their "intense" bond may have been romantic; a recent biographer recovered a topless photo of Travers lounging on the beach that is believed to have been taken by Burnand.
Keep reading for more on the making of Mary Poppins and Travers's unconventional life.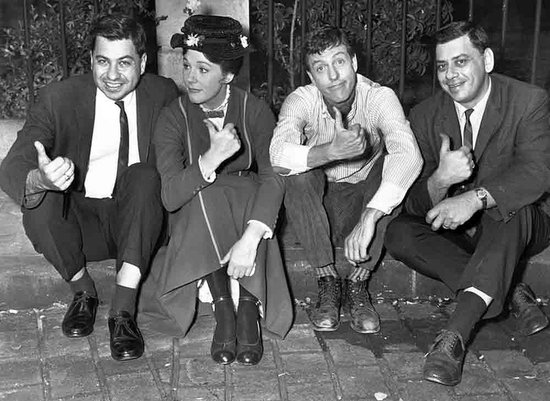 She tried to prevent Mary Poppins from becoming a musical
It's difficult to imagine the Mary Poppins we know and love without its remarkable songs, "Supercalifragilistic," "A Spoonful of Sugar," and "Chim-chim-cheree" among them. But Travers was no fan of Disney's plan to transform the character she saw as stern and plain into a beautiful singing nanny (as Julie Andrews, pictured above, eventually played her). In fact, when she met with brothers and songwriters Richard (pictured above far left) and Robert Sherman (pictured above far right), who are played by Jason Schwartzman and B.J. Novak in Saving Mr. Banks, she was outright dismissive of their work. "She hated everything," Richard Sherman remembered in a recent interview with Variety. "It was a joy to work on after we finally got the rights. It was a dream cast. But those two weeks [working with Travers] I would hate to go through again."
She adopted a son — but did not take in his twin
In her 40s, Travers decided to adopt a child. She traveled to Ireland, where she met a destitute family seeking someone to adopt their infant sons, who were identical twins. Although the family pleaded with her to adopt both Camillus and his brother, Anthony, Travers refused and instead had an astrologer friend advise her on which boy to take in based on the babies' horoscopes. She never told Camillus (pictured with Travers below) about his twin or his biological family while he was growing up, instead crafting a story about his father being a sugar planter in the colonies who died when he was young. However, when the boys were 17 years old, Anthony arrived on the front doorstep of Travers's London home and revealed the truth when Camillus answered his knock.
She had unique views on spirituality and religion
Travers became a disciple of George Gurdjieff, a mystic and guru associated with the Whirling Dervishes and Sufism, in her 40s. Gurdjieff's other notable admirers included architect Frank Lloyd Wright, but the guru was considered by many to be nothing more than a con man. Aside from Travers's interest in mysticism and astrology, she often spoke about her lifelong quest for spiritualism.
Her pen name came from her late father
Travers was born Helen Lyndon Goff, but changed her name to Pamela Lyndon Travers when she was 21 and pursuing a career as an actress. She kept the name as a nom de plume when she began writing as a tribute to her father, Travers Goff, a bank manager who struggled with alcoholism and died when she was just 7 years old.
Her own childhood was nothing like a storybook
Not only did Travers suffer the loss of her father at a young age, but she also witnessed her mother's suicide attempt in the aftermath of his death. One night a few years after his passing, Travers's mother, Margaret, informed her she was going to drown herself in a nearby lake and asked her daughter to look after her two young sisters. The attempt was unsuccessful, and she returned hours later, but the event stayed with Travers (pictured below in her later years) as one of the most terrifying of her life; it also makes for one of the most heartwrenching scenes in Saving Mr. Banks.
Not everything she wrote was G-rated
Travers got her start as a journalist, penning a cheeky magazine column called "A Woman Hits Back," and also churned out some pretty steamy fare over the course of her literary career. One selection from an early piece Travers published: "The silky hush of intimate things, fragrant with my fragrance, steal softly down, so loth to rob me of my last dear concealment."
There's a close connection between Mary Poppins and Peter Pan
Travers's publisher, Peter Davies, wasn't just the son of Peter Pan's author, J.M. Barrie; he was the inspiration for his father's most famous character.