Marvel is known for working fans into a frenzy at Comic-Con, and this year was no exception. Not only were we treated to brand-new footage from Thor: The Dark World and Captain America: The Winter Soldier, but we also got our very first look at the much-anticipated Guardians of the Galaxy and saw a quick teaser for the Avengers sequel. Oh, and did I mention that Loki (Tom Hiddleston) was there in the flesh to recruit the entire audience for his army? Read on for all the highlights!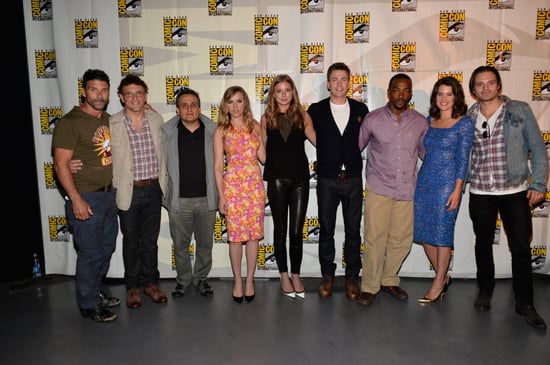 OK, I have to admit that I was slightly disappointed that there wasn't a full panel for Thor: The Dark World — no Natalie Portman, no Chris Hemsworth, no Kat Dennings. However, Hiddleston totally made up for it by coming on stage in his full Loki costume (greasy black hair and all) and proceeded to command the audience to chant his name and join his army, taunting us with lines like "Where are your Avengers now?" It was pretty epic, I must say.
The Captain America panel was short and the cast was tight-lipped about pretty much everything, but Chris Evans and Scarlett Johansson did talk a tiny bit about their relationship in the sequel. They didn't exactly say that they'll be together, but we've all seen those pictures of Cap and Black Widow kissing on the set. Evans did say, "I'd say it's like an odd couple. We have different approaches to morality. Dichotomies are sexy."
The much-anticipated Guardians of the Galaxy has only recently started filming, so I was pleasantly surprised that the full cast made the trip from London to share some tidbits about the movie. Chris Pratt, Zoe Saldana, and Benicio del Toro were just some of the many cast members who took the panel, and a hot topic of conversation was definitely Pratt's buff new bod. Pratt joked that his slimdown "had nothing to do with this movie. I had a tapeworm. I got the role six months ago and they said, 'great job but you're too fat.'"
Finally, it wouldn't be a Marvel panel without at least a little insight on the upcoming Avengers sequel, and we got just that — in the form of a buzzy new title. The second film will be called Avengers: Age of Ultron and will be released May 1, 2015.