The Avengers Entertainment Weekly Cover
The Avengers Aren't Just Superheroes, They're Cover Models
The cast of The Avengers — Robert Downey Jr., Scarlett Johansson, Chris Hemsworth, Jeremy Renner, Chris Evans, and Mark Ruffalo — are all decked out in costume on the cover of this week's issue of Entertainment Weekly. Despite the fact that the cover looks a bit doctored (and Ruffalo appears to be doing his best "Blue Steel"), I'm always excited to get new glimpses of the upcoming superhero blockbuster. In the issue, the cast talks about what it was like making the film (surprise, surprise: RJD tried to hog the spotlight) while writer/director Joss Whedon discusses the pressure he felt when putting the pieces together. Here are highlights: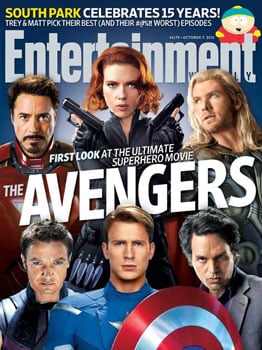 Downey on initially pushing Whedon for Iron Man to lead the charge: "I said, 'I don't know what you're thinking, but Tony needs to drive this thing. He [Whedon] was like, 'OK, let's try that.' We tried it, and it didn't work. Because this is a different sort of thing. Everybody is just an arm of the

octopus

."
Evans on how shooting in New Mexico brought the cast together: "Any time you film somewhere where nobody is from, you're forced to hang out together off set. No one knows anybody, no one has any prior obligations out here, no one has any dinner plans because we're all alone."
Whedon on his experience as director: "Every day I make some boneheaded mistake. And I go, 'Really? Wow. So no learning curve, huh?' There is a weird element of: They handed me one of the biggest movies of all time, and I'm making it up as I go."
To see a bigger version over the cover, just keep reading.