Awake Pilot Review
Pilot Scoop: Awake
It may seem like we're heading into the homestretch of TV season, but a few midseason shows are still making their way out of the starting gate. One of those new series is Awake, which focuses on a man who finds himself living in two different realities after a tragic car accident. Before you check out the premiere tonight, here's what you're in for.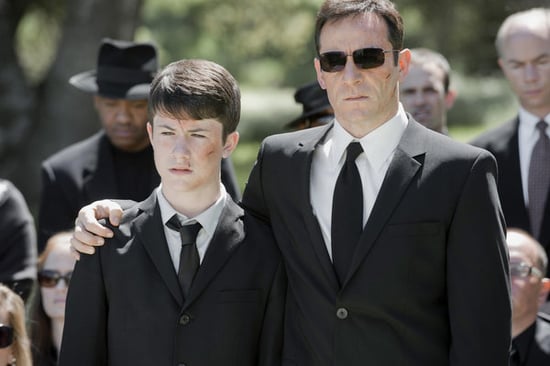 What it's about: Jason Isaacs (who looks quite different without his platinum-blond Lucius Malfoy Harry Potter wig) stars as Michael Britten, a man who has lost either his wife or his son in a car accident. The confusion is that he's leading two different lives: one in which his wife is alive but his son has died, and the other in which the opposite is true. When he goes to sleep at night, he is able to live the other reality — a conundrum that his two therapists (he has one in each reality) are struggling to work through. The issue is that he doesn't want to resolve his problem, because then he'd have to face the truth that either his wife or son is truly gone.
Where it works: The pilot is compelling from start to finish, and I love that there's a sci-fi aspect built into a typical procedural; Michael also works as a detective, so there's an extra layer built in as his two psyches begin to affect his work (and in the pilot, help him solve both of the cases he's working on.) I'm also intrigued by the many variables that could shake up his situation: is it possible that he's the one that's dead? What happens if he moves away or changes too many things? Will his wife and son get older?
Where it doesn't: My biggest issue with Awake is how much is riding on the mystery of Michael's condition. Are we going to have to wait until the series finale to get some answers behind what's happening here?
When it's on: Thursdays at 10 p.m. on NBC
You might like this show if: You appreciate procedurals with a twist — and not a twist that's too gimmicky.

See pictures from Awake and watch a preview when you read more.