Aziz Ansari Interview About the 2010 MTV Movie Awards
Aziz Ansari Just Wants to Touch Robert Pattinson's Hair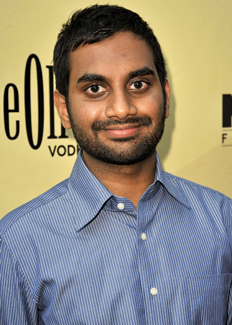 The thoroughly lovable Aziz Ansari is prepping for his most high-profile job yet: hosting this year's MTV Movie Awards! The excitement really got ramped up yesterday when all the nominees were revealed, and I have it on good authority that the show is going to be hilarious and fun, thanks to its up-and-coming host. I got to chat with Aziz along with a few other reporters about his new gig and how he's been getting ready (hint: it's a lot of Twilight!).
On his reaction to being asked to host:
I leapt at the opportunity. For me it's definitely a really huge deal as a comedian; the previous hosts are people I've been big fans of — [Andy] Samberg, Sarah Silverman, and Ben Stiller and all these people — it's cool to be in such good company. My background is stand-up and doing sketch on Human Giant; it's really kind of a dream gig to be able host and do this monologue and do these shorts, so when they called I was really excited. I think they were a little confused when they called me, though; I think they were under the impression that I was a Jonas Brother, and ever since they found out I'm not, they seem to kind of be trying to keep me out of the show.
On his live tweeting Twilight:
As soon as I got asked to host, the next day I went and watched both Twilight movies to get a quick crash course, and it's pretty remarkable. My goal is to at some point maybe touch Robert Pattinson's hair or maybe try to get a photo with Taylor Lautner's abs. If I could pull that off, I'll be happy.
On what he's doing to prepare:
I'm trying to really become one with the audience, so I put a poster of Robert Pattinson on my ceiling and I've been staring at it nonstop. I'm just really trying to get in the head of my audience — I haven't been writing jokes or filming any shorts, I've just been looking at that poster, and hopefully that will get me ready for June 6.
To hear what else Aziz had to say about the awards and whether he's Team Edward or Jacob, just
.
On what we can expect on the show:
I have a couple of surprises in store. I'm going to try to recreate all the big MTV moments in one moment; so it'll be like, falling on Eminem's face while Britney Spears is doing a bad performance while Britney Spears again is kissing Madonna while Kanye West is interrupting, happening at the same time.
On the kind of movies he likes:
As far as movies to talk about, I'm just going to talk about that Banksy documentary Exit Through the Gift Shop, because I just saw that and it's really good. I hope that's relevant to the audience. It is, right?
Who he's rooting for in the Best Kiss category:
I don't know if he's nominated, but I saw a video of Soulja Boy kissing one of his chains — like, he puts a chain up to his mouth and just kisses it — I'm hoping that he'll win and then he can recreate that when he picks up the award.
On whether he's Team Edward or Team Jacob:
You know, I'm kind of partial to that Asian kid with glasses that hangs out with Anna Kendrick's character. Eclipse is all about that kid, right?