Aziz Ansari Parks and Recreation Interview About Twilight and NBC Series at 2011 Winter TCA
Aziz Ansari on Being a Twilight Consultant and His Big-City Parks and Recreation Character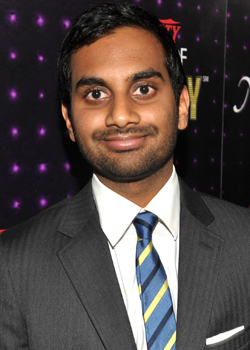 One of my favorite shows, Parks and Recreation, comes back to NBC's Thursday night comedy block next week, and to celebrate its return, the cast welcomed us to the set during this week's Winter TCA. I had a chance to chat with star Aziz Ansari for a few minutes about upcoming storylines (Parks and Rec is going Twilight!), and his other projects.
BuzzSugar: The third episode of the season revolves around the Twilight books, and a few months ago, you live-tweeted the Twilight movies rather passionately. Did you have anything to do with making the storyline happen on the show?
Aziz Ansari: No, but it did help that it was still pretty fresh in my mind, that I knew the movies, I knew all these details. I haven't seen [the episode] yet so I don't know what made it in, but there's a lot of scenes where we improvise stuff, and I remembered real things from Twilight, and I had real questions. That was the funny thing, because Donna is in the Twilight group and she's read all the books and knows everything, and I'd read a little bit and had a discussion with her for real, so it actually worked out really well for the arc of the story.
Buzz: Have you actually read any of the books?
AA: I haven't read any of them, I just saw the first two movies. When I did the [MTV] Movie Awards, those were obviously the big movies, so I watched those two movies for research for that, so I knew a little bit about the Twilight world.
Buzz: So you were kind of a consultant for Parks and Rec.
AA: Yeah, I'm a consultant I guess!
Buzz: Will we see Tom get back together with his ex-wife this season?
AA: I don't know, it's a surprise! That's what the first two episodes deal with, what Tom's romantic arc is. He has a new girlfriend Lucy, and his ex-wife Wendy, and Wendy's dating Ron now, and it's kind of what happens with that triangle in the first two episodes.
To find out what else Tom will be getting into this season, plus details on Ansari's upcoming movie, just
.
Buzz: What kind of other "big-city" things do you want to see Tom do?
AA: Maybe start his own clothing line? That sounds like something Tom would want to do, opening up a men's store or a gentleman's club, something like that. I think those are all things he's interested in. They definitely give me a lot of fun things to do as Tom this season.
Buzz: You have a movie, coming up, 30 Minutes or Less. What can you tell us about it?
AA: Myself and Jesse Eisenberg are best friends, and Danny McBride is the bad guy in the movie, and [he] and Nick Swardson put a bomb on Jesse and tell him he has to rob a bank. I play Jesse's best friend, so we rob the bank together, so it's kind of a bank robbery comedy. It's directed by Ruben Fleischer, who directed Zombieland. You haven't seen the four of us yet in a movie like that, and those pairings are something you haven't seen yet, so it's a good combo.
Buzz: Are you rooting for Jesse to win the Golden Globe for The Social Network on Sunday?
AA: That'd be great! I thought that movie was so good. I'm so glad I saw it after I worked with him because I would have been so intimidated. He's a really amazing actor.