The Bachelorette Episode 4 Recap
Bachelorette Breakdown: The Week's Biggest Whoa!-ments
Anyone else still feeling the awkward tension from this week's episode of The Bachelorette? Between the confrontations and the two-on-one date, even I want to crawl into a cave and cry, except I'm afraid I'll find castoff Nate crying and pronouncing "quinoa" incorrectly. I thought Bermuda was supposed to be a happy place! Did The Beach Boys lie to me? Let's discuss.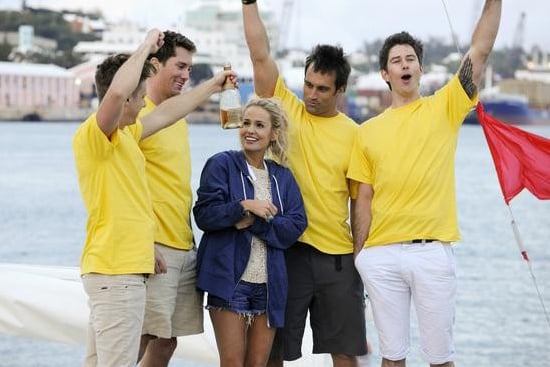 Let's recount the good times and especially the bad times from this week's episode when you read more.
Everyone is stoked when Chris Harrison tells them they are leaving Charlotte forever and headed to Bermuda. They knew they packed their board shorts for something! The excitement is short-lived. Once they are in Bermuda, they realize they are relegated to staying in the same living room 24/7, and the Lord of the Flies confrontations begin.
Despite the fact that Doug seems like "the perfect man," no one is really buying it, least of all Arie and Chris. Emily nearly walks in on Doug and Arie having it out, but Doug smooths it over with her on their one-on-one date. (One-sided explanations are always the best way to get the truth.) Emily likes Doug, but part of her is also thinking she's already seen this Lifetime movie, and it ends with her finding out her new fiancé has four families in different states and a lot of credit card debt. So she investigates, but ultimately realizes how hard it is to point out your own flaws.
Chris Harrison is looking an awful lot like Phil Keoghan lately. First he tells the boys they're going on a round-the-world adventure, then the boys' group date turns into an arduous competitive team-based challenge? Aw, now someone's crying in the taxi. Next thing you know they'll be getting detour cards and hating on road maps.
This week's episode contains the first two-on-one date, a ritual the guys know is the Bachelorette equivalent of a sudden-death round. Nate and John "The Wolf" are happy to get out of the five-star hotel room they've been imprisoned in, but not happy to be fighting for Emily's attention . . . so they kind of just decide not to. It is unfortunate, and the fact that they are in a beautiful but echoey cave makes it so much worse.
One of the biggest debates this week is over how age can affect maturity. It's funny how for the female contestants on The Bachelor, advancing age is a handicap, but here it's a badge of maturity. Of course, Chris (you know, the one who spent much of his last date talking about how much he wanted to make out with Emily) takes Doug's comments personally and chooses to take him aside, Real Housewives-style, to figure out why Doug has so much beef with him. Doug does not feed into the drama, and it's awkward for all.
Forget Kalon, this season's villain is clearly Ryan. He's been acting shady for the past two episodes, and before the rose ceremony, we get a peek at a fireside chat between him and Michael. After last week's "I just wouldn't love on you" debacle, all of America is thinking Ryan is kind of a tool, except Ryan, who thinks he's awesome and plans to use the media attention to do "Bachelor Ryan" live from Augusta! Soft-spoken, ponytailed Michael doesn't think to alert anyone of this crazy talk and then he promptly gets sent home.
The most enlightening part of this week's episode is that, refreshingly, Emily has a good head on her shoulders. In fact, her jadedness is an asset on The Bachelorette and she proves to be pretty perceptive during her prerose ceremony chat with Chris, though I am wondering why she chooses to keep Ryan around after admitting she was wary of him. What do you think? Were you disenchanted with Jef once the wind mussed up his cool hipster hair? Why can't Emily stop making out with Arie? Did I miss any whoa!-ments?