The Bachelorette Episode 5 Recap
Bachelorette Breakdown: The Week's Biggest Whoa!-ments
Emily is in it to win it this season. And by that I mean she wants to win a husband and will tell anyone who proves themselves unworthy to "get the f*** out" of her way. (Her words, not mine.) After last week's snoozer of an episode, we finally got treated to some class-A drama when one of the contestants dared to refer to Mama Bear's cub as "baggage." But we'll get to that — first, let's explore historic London on this week's episode of The Bachelorette!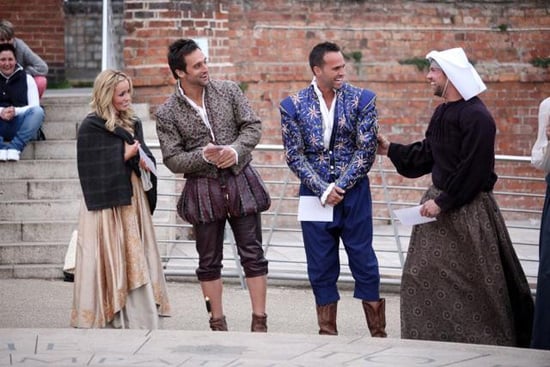 I'm recounting the good times, and especially the bad times, from this week's episode when you read more.
After the first 15 minutes on her one-on-one date with Sean, it's really apparent that Emily does not sound like herself. Correct me if I'm wrong, but if your voice is hoarse like that, doesn't it mean you might have a contractible illness? Possibly something you should be on penicillin for rather than making out with a bunch of dudes? Is this not how mono gets spread? My God, people, use some hand sanitizer.
As her voice continued to drop, Emily realized that the best way to get to know how manly your man is is to make them recite Shakespeare, and if they're not very good at it, then dress them like a lady and see how they like it. The grossest part of this whole situation (as the guys can probably concur) was seeing Ryan/Romeo have a light make-out session with Emily while she's playing the dead Juliet. After what we heard last week about his plans to use "his position" to possibly snag his own show, why haven't the producers intervened yet?
Speaking of intervening, I'm putting this out there: I'm in love with Doug. I know he's like the Hulk and his "perfect man" demeanor isn't fooling anyone . . . except me. He finds out Kalon has been talking crap about Emily and Ricki and immediately goes to the lady of the manor to alert her. That's not a rat, that's a dude who's concerned about his sort-of girlfriend. Bravo, Hulk, bravo.
I'm hesitant to give Kalon his own bullet point because that's how little I care about him. But, it's worth noting that not only did he call Ricki "baggage" (which, if said in a certain context, isn't that bad of a thing to say, except that he actually meant it in the worst way), he expressed his disappointment in the experience thus far as, "I'll get a chance to talk to an exhausted, sick mother who has a child waiting on her." Well, that's a pretty glass-half-empty way to look at it. Clearly he's not used to women resisting his slimy charm. Let's be clear, Chopper, the ability to buy a helicopter does not a gentleman make.
Emily was not cool with what Kalon said. She confesses to the camera that she wanted to "go West Virginia hood rat backwoods on his ass!" "Whoa," said the fine, upstanding citizens of West Virginia.
Up until this point, Arie has been one of the front-runners, as evidenced by the fact that he's gotten far more make-out time than any of the other gents. But it appears Emily was not at all impressed that he held back information about Kalon, and she withheld his rose to teach him a lesson. He still got one, but even Travis (formerly known as the Egg Guy) got one before Arie. Even The Wolf got one before Arie! I almost thought she was going to boot him just to prove her seriousness.
That's another week on The Bachelorette. What did you think of the episode? Was Jef's heavily anticipated first kiss magical or kind of a dud? Sad to see Alejandro will not be the Romeo to Emily's Juliet? Excited to head to Croatia next week?