The Bachelorette Episode Three Recap
Bachelorette Breakdown: The Week's Biggest Whoa!-ments
This week was the most eventful episode of this season's Bachelorette yet. There were harnesses, country superstar Luke Bryan, screaming children, and Dolly Parton, not to mention the death-defying stunts and hardcore interrogations. Just another day at the office for Chris Harrison, I suppose. Let's chat about this exciting chapter!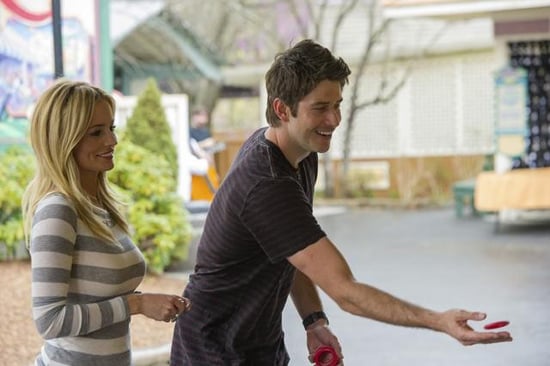 I'm recounting the good times, and the especially bad times, from this week's episode when you read more.
Emily has her first one-on-one date with Chris. It isn't surprising she chooses him — unless you ask any of the other contenders, who all claim to share a much truer, deeper connection with our lone Real Housewife of Charlotte. The two climb the side of a building and enjoy a romantic dinner together atop the roof. I imagine between the lightning storm and all that metal camera equipment, it is incredibly relaxing. Alas, the most "shocking" part of the evening is Chris's big reveal: he's 25, y'all! Even though they tell us how old each gent is, I was right there with Emily. He's but a babe! This explains his sole goal of the night: a makeout sesh.
The next day (or a week later; I don't know how time actually works behind the scenes) is the group date. Emily brings the guys for a fun game of sports in the park, but nothing is as simple as it seems here on The Bachelorette. The men are actually there to play with other people's children (I ask again, who are these parents who volunteer their kids to play with strange men?) and be interviewed by Emily's BFFs. Friend Wendy was all up in Sean's business, and by the time she has him doing bare-chested push-ups, I was like, "Hey lady, get your own crop of muscly small business owners to ogle at."
Meanwhile, Ryan tries to score extra points by cozying up to Emily in front off the BFFs, and instead he goes into "Whoa No He Didn't" territory by suggesting that if Emily got fat, he'd still love her, he just wouldn't "love on" her as much. His grossness does not go unnoticed.
Playing with kids in the park probably makes most of the guys want to shower all the grape jelly off their sticky hands, but it makes Tony super-homesick. So much so that we're subjected to a excruciatingly long segment about him missing his kid. (Boo.) Emily is sympathetic, so sympathetic that she sends him home, and all the other contestants come to the startling conclusion that this single mom takes this seriously.
Ari scores the second one-on-one date and they go to Emily's old childhood haunt, Dollywood, which looks kind of like a supersized version of the Frontierland segment in Disneyland. They get the whole park to themselves, until Dolly Parton herself crashes their music-writing sesh. She wrote a song just for The Bachelorette, and Emily loses it. I'm pretty sure she forgot who she was even on a date with.
The time before the rose ceremony is always key, and this week was chock-full of shock bombs. Kalon tells Emily he wishes she'd let him finish and she doesn't take it well. Shelly the egg is symbolically smashed and the guys are, like, all supersad. Just kidding. They are more like, "Hey let's toast to not having to live with that gross egg anymore!" Alessandro insists that the Emily/Ricki package deal is a "compromise" and she kicks his bilingual butt to the curb.
Were you as shocked as the contest-gents when Emily was spotted making out with Ari in the house? Do you think friend Wendy is putting in a bid for her own reality show? Are you sad DJ Sean got cut? Still wondering if they fit an episode bottle of wine into Emily's megaglass? There were so many amazing whoa!-ments this week, did I miss any?