The Bachelorette Final Two Contestants
The Bachelorette: A Case For Each of the Finalists
I knew Emily was going to send Sean packing this week on The Bachelorette because Sean was my favorite of the remaining contestants. My liking a contestant has been the kiss of death season after season, and it has become clear that I'm just going to have to be an impartial viewer from now on, lest my heart breaks like it did watching Sean say goodbye to the woman who he thought would be his wife. In the spirit of impartiality, I would like to make a case for both Jef and Arie, Emily's finalists. Sean may have been "the perfect man" (Emily's words, not mine), but she has very strong connections to each of the men she has left. It helps that they're both adorable and willing to put a ring on it.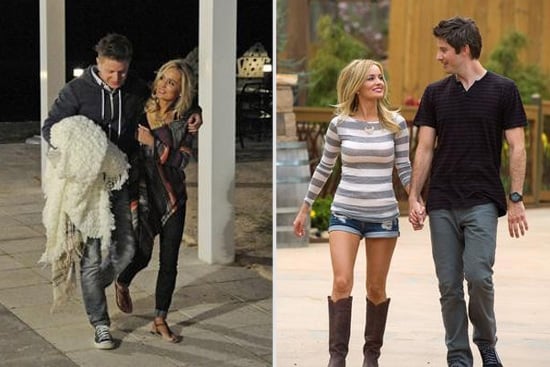 Let's take a look at the last men vying for Emily's hand when you read more.
Why Emily should pick Jef:
They have had such a sweet romance. I have to admit that I initially didn't understand Emily and Jef together. He's hipster-chic and she's Southern fried. But after they went on a few dates, their mutual crushes on each other became evident and I started rooting for the pompadoured Salt Lake City gent.
He would be great with Ricki. As she's made clear, whoever proposes to Emily is also taking on her daughter, and playful Jef seems like a big kid himself. Not in the stunted maturity way, but because he's a smiley goofball who seems like he'd really enjoy hanging out and playing ping-pong with family.
He's a respectful kind of guy. This week when Emily got the Fantasy Suite Card (in which the two could forgo their individual rooms for a night together), Jef politely declined, citing that he knew Emily's daughter and his family would be watching. It's nice to see someone content with having some good, clean fun on the show, though I did cringe a little bit at his comment about "bridling his passions."
Why Emily should pick Arie:
They have passion. Anyone who has seen any episode of this season knows Emily and Arie love making out. They love making out on the beach, on a boat, and up against walls. They even love making out in front of the other contestants. It's awkward, but they just can't keep their hands off each other. This week, Emily didn't even offer Arie the Fantasy Suite Card, knowing full well what would happen if she did.
He has a sense of humor. Truth be told, Arie didn't win me over until the credits of this week's episode. When they showed the blooper reel of him laughing at his own inability to talk to the camera, I finally got a glimpse of the warmth and humor that Emily has been seeing this whole season. It was just hard for me to notice it because he's been glued to her mouth.
They share common interests. Arie is a professional race car driver, and in the beginning of the season, this seemed like an obvious ploy by producers to get Emily emotional about Ricki's late father, who was also a driver. Yet as their connection grew, it became more and more evident that their shared love for the track is an asset to their relationship, and almost cathartic for Emily.
I've said my piece, but who do you think would be best for the belle of The Bachelorette? And are you looking forward to the Men Tell All special next week?