Bachelorette Movie Review Sundance Film Festival
Sundance Snapshot: Bachelorette
There was more than one wedding-themed movie at Sundance this year, and Bachelorette was one of the most buzzed-about. The comedy features a ton of familiar faces, but serves up something a little different from what we've seen in the genre before.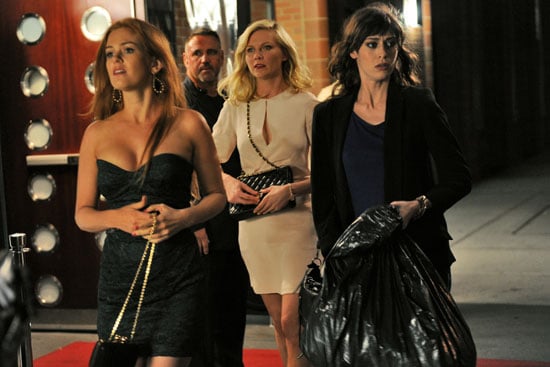 Who's behind it? Kirsten Dunst, Adam Scott, Lizzy Caplan, Isla Fisher, and James Marsden lead the funny cast. First-time director Leslye Headland also penned the script.
What's it about? A group of high school BFFs reunite for the wedding of their friend Becky (Rebel Wilson). There's uptight, prissy Regan (Dunst), who begrudgingly accepts her role as maid of honor despite her bitterness that her less-attractive friend is getting married before her; cynical Gena (Caplan), who's determined to confront her high school ex (Scott) at the wedding; and ditsy Katie (Fisher), who is actually depressed beneath her bubbly exterior.
What did I think? Comparisons to Bridesmaids are inevitable, but the movies really are quite different. For starters, Bachelorette is darker, edgier, and has a lot less slapstick (think coke binges instead of food poisoning). Some of the more dramatic undercurrents go a bit too far, particularly Katie's downward spiral through the course of the night, which don't exactly jive with some of the cheesier, warm-and-fuzzy scenes. Though it's a bit uneven, the stellar cast makes the film entertaining, even if it's not worth a standing ovation.