The Bachelorette Recap Episode 6
Bachelorette Breakdown: The Week's Biggest Whoa!-ments
Emily knows nothing tests a man's masculinity like putting him in a skirt, which is exactly what she did last night on The Bachelorette. The lady of the mansion took her whole band of suitors to Croatia, where they strolled through the streets and competed in their own version of the Highland Games. The Scottish theme made sense because Scotland is only 1500 miles from Croatia, so, you know. But most of the biggest whoa-ments of the night happened off the competition field.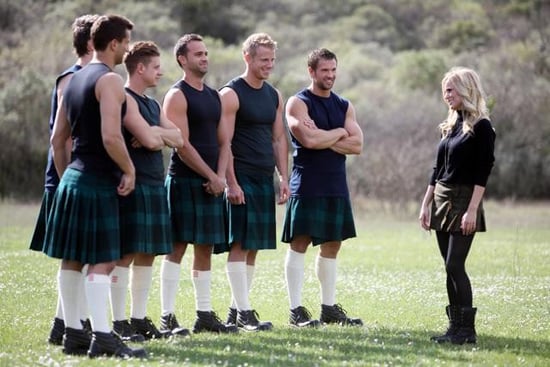 I'm recounting the good times, and especially the bad times, from this week's episode when you read more.
There were a couple turning points in Emily's one-on-one date with Travis, the first being when he admitted he hadn't been on a date in two years. The expression on her face was one of shock and horror with a twinge of gratitude for his honesty. I'm not saying that admission led to what happened next, but . . . Emily sent him packing. There is no image more depressing than Travis wantonly shuffling down the street, crying, kicking his umbrella aside so his tears could blend in with the rain.
Onto the Highland Games. Let's be clear: Chris lost every game. Every single game. He didn't even hit the target (let alone get near the bull's-eye), he couldn't throw the log, and his decision to match Doug in that weird bizzarro tug-of-war did not pan out for him. Yet he won the bravery trophy. Part of me wants to think this is cute, but the bigger part of me doesn't really like Chris all that much.
Ryan deserves two mentions after this week's showing of pomposity. I wish I counted the number of times the term "trophy wife" was said last night in allusion to his future bride, but I didn't think that far ahead. Early on in the episode, he flat-out declared, "I can manipulate the situation . . . I can get the girl." Whoa! You don't use the word "manipulate" on The Bachelorette unless you're intentionally getting the villain cut. (And if that's the case, you're a jerk.)
Imagine Ryan's surprise when Emily (who is cutting more suitors than Henry the VIII had wives) laid the hammer down that she would not give him the rose. The best part, however, was when she hugged him goodbye and he ended it with an instant classic, "Trust yourself. You're making the wrong choice." Subtle, to the point, and completely contradictory. I like it.
Doug broke down hard this week. I didn't think there was a more pained crying face than some of the ones we'd already seen this season (looking at you, Tony), but, man, The Hulk crying is something I definitely don't want to see again. Especially because he seemed really aware of his ugly-cry and was batting his head from side to side looking for a tissue or something to hide his tears in.
Whenever the Bachelor or Bachelorette goes outside to talk to Chris Harrison midceremony, you know some stuff is going down. I was trapped in a glass case of emotion at the prospect of Doug going home, but I think we all knew this wasn't a possibility. Surprise — no one went home! I'm pretty sure the producers allowed this only because she already axed two dudes in one night.
What did you think of the episode? Did Emily make the right decisions sending Travis and Ryan home? What do you make of the upcoming episode teaser? Did you know Arie was involved with a producer back in the day?