The Bachelorette Week Two Recap
Bachelorette Breakdown: The Week's Biggest Whoa!-ments
Week two on The Bachelorette brought plenty of action, and I'm not just talking about the chemistry between Emily and Kermit — though that was slightly uncomfortable. No, I'm referring to the first one-on-one dates, the first group date, and all the poolside drama. It looks like we've got a veritable Real Housewives of Charlotte on our hands, only in this case the housewives are men and Botox is replaced by Muscle Milk.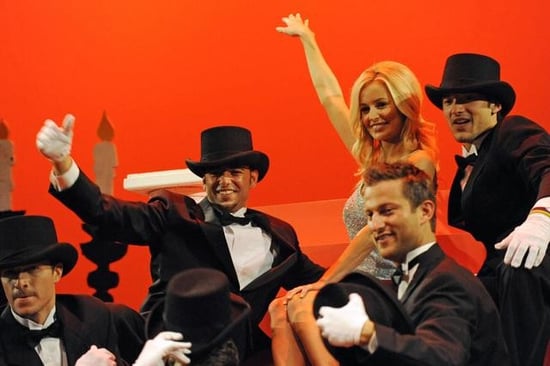 I'm recounting the good times, and the especially bad times, from this week's episode when you read more.
When Emily told Ryan they'd be baking cookies for her daughter's soccer team on the show's first one-on-one date, I was like, Whoa. No doubt this guy thought the only food preparation he'd have to do on The Bachelorette would be stomping his own grapes when producers flew him and his date to the scenic Napa Valley, and even then it would all just be for show and they'd get to drink perfectly aged Merlot by the fire while staring into each other's eyes. Not this season, buddy!
When Ricki showed up in the audience of the group date, I was like, Whoa! Wasn't the whole purpose of bringing the show to Charlotte so that Emily could still maintain some semblance of normalcy in her daughter's life? First she brings Ryan to soccer practice (but makes him wait in the car mere yards away from her daughter) and now this? (Side note: I kept thinking they should have rolled up the tinted window, lest Ricki see the strange man in her mother's car, but then it occurred to me that he might suffocate in the South Carolina heat.) Actually, come to think of it, watching your mom be the ringleader in a variety show starring the Muppets and a dozen suitors (one of which will be your new daddy!) is pretty commonplace nowadays.
Whilst lounging in the hot tub, Kalon let slip that he thought Doug "put being a dad on hold" to be on the show, and Doug was all, Whoa. Despite the fact that Kalon is coming off like a tool and clearly making no friends, Doug overreacted a touch and told him to "check it," but in a much more serious way. Kalon tried to interject, and again Doug was like, "Check it." I believe the phrase he's looking for is actually "Check yourself before you wreck yourself, bro." It also appears that Kalon is no longer "Helicopter Guy" and has now been given the nickname "Chopper," which the guys think is derogatory, but which is actually really cool and something I might try to get my friends to call me.
Meanwhile, Emily went on her date with Joe. The two dined at her local

cotillion

venue and put their hopes and dreams in the "love clock." After laying out his wishes to come back to Charlotte to marry her, Emily told Joe he wasn't the guy for her, and Joe was like, Whoa. It was brutal, but it was necessary.
After the loads of private time he got with her this week, Ryan still thought it would be kosher to monopolize Emily's time before the final elimination. He did this by writing her a seven-page letter and then making her read it to him out loud. It took 15 minutes, which is about two weeks in Bachelorette hours. This wouldn't be quite so bad if Taylor wasn't awkwardly waiting in the wings, caught in the unfortunate position of either backing down or breaking mid-letter-read. All the guys who were watching from outside were like, Whoa.
Did I miss any whoa!-ments?