Back in the Game TV Show Info
How Scott Caan Prepared James Caan For His New Baseball Show
If baseball is America's favorite pastime, might a TV show about baseball starring James Caan have a shot at becoming America's favorite sitcom? Caan led the cast of Back in the Game during the show's TCA panel this week, explaining why he wanted to play a cranky old ex-ballplayer aptly nicknamed "The Cannon." Maggie Lawson (Psych), who plays Caan's daughter, Terry Jr., also chatted about the show, along with producers. Read on to find out what we got to hear about the upcoming show!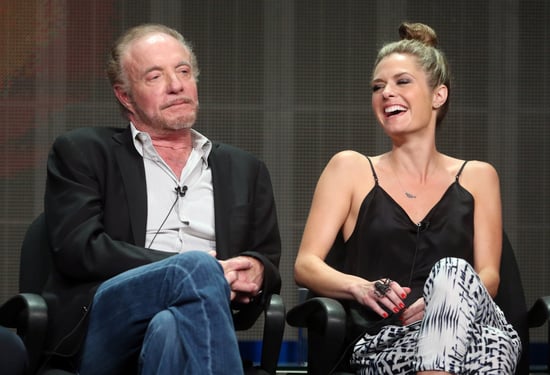 With the exception of little Griffin Gluck, who play's Terry Jr.'s son, everyone in the cast has experience playing sports. Caan told the crowd about his experience with son Scott, who traded in a possible professional baseball career to act. "My son Scott turned out to be an unbelievable player," Caan said. Turns out, James may have been the poor sport at Scott's games: "I got thrown out three times . . . I chased two umpires." Given Caan's past playing gangsters, I can only imagine how scared those umpires must have been.
A few critics displayed concern over a young member of the cast playing a gay character, and the producers addressed the hot-button topic: "We're playing him happy," said producer Robb Cullen. "We're not hanging anything on his sexuality." Coproducer Mark Cullen jumped in to say, "If somebody is picked on, the whole team will jump behind him and take care of business."
When asked what brought him back to TV after his turn on Vegas and guest stint on Magic City, Caan bluntly replied, "Bad movies." Whatever the reason, it's just nice to have him back.