The Bang Bang Club Movie Review
Tribeca Takeaway: The Bang Bang Club
This year's Tribeca Film Festival kicked off in NYC last night with the star-studded premiere of Cameron Crowe's The Union. Screenings commenced this morning for a handful of other movies, and today I was able to check out Ryan Phillippe's The Bang Bang Club.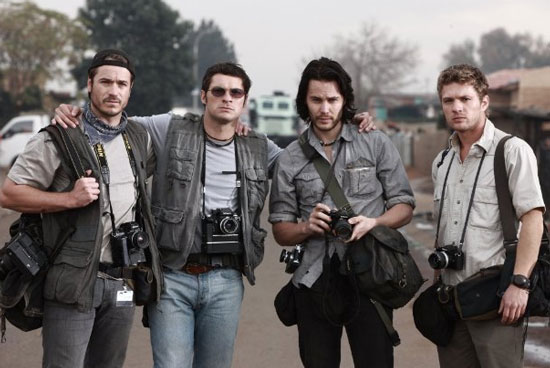 Who's behind it? South African filmmaker Steven Silver both wrote and directed the piece. It's his first feature after a long career in documentaries — he wrote Gerrie & Louise, based on the life of a colonel in the South African Defense Force, and directed the Emmy-nominated story of a Jerusalem bus bombing in 2002's The Diameter of the Bomb.
What's it about? Phillippe heads a cast that includes Taylor Kitsch and South African actors Neels Van Jaarsveld and Frank Rautenbach. The four men play photojournalists at a Johannesburg newspaper who head into townships to document the communities' violence during the height of apartheid and in the run-up to the country's first democratic elections in the early '90s. Malin Akerman plays their editor, Robin Comley, who serves as a mentor, then love interest, for Phillippe's Greg Marinovich. The four men come to be known as the Bang Bang Club for their work, which goes on to win Pulitzers and bring them great acclaim at a high price. Along with Robin, they play as hard as they work. The film raises questions of what exactly the role of a photojournalist is — to document, to help those suffering, or, somehow, do both?
To see what I thought of the movie, just
.
What did I think? I was actually surprised at how much I liked this movie. I (perhaps unfairly) wasn't expecting much, but the finished product was quite good. The material was gripping, and the mix of action and romance pretty much means there's a little something for everyone. The violence is at times extremely graphic, but it never seemed excessive or exploitative. The topics of genocide, apartheid, and South African political upheaval are still sensitive ones nearly 20 years later, but I think Silver took the material, his actors, and settings and created an interesting, gripping final product. My one gripe was the cast's handling of the elusive South African accent — was Akerman going Australian? Kitsch speaking like a Brit? Phillippe, to his credit, seemed to have a good handle on the way of speaking. The Bang Bang Club will be out in limited release in the US tomorrow.