Bates Motel Pilot Review
Pilot Scoop: Bates Motel
A&E is going in a new programming direction (than, say, Duck Dynasty) with Bates Motel, a scripted series that acts as a prequel to Psycho. Vera Farmiga and Freddie Highmore star as Norma and Norman Bates, the mother/son team that sets out to run a motel that we all know becomes the scene of some pretty gruesome crimes. Before the series premieres on March 15, here's a rundown of what to expect.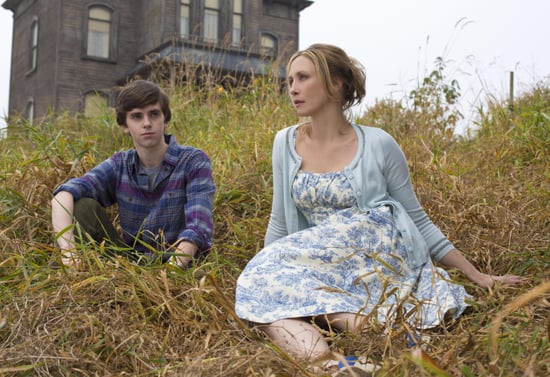 What it's about: After the mysterious death of her husband, Norma uproots her teenage son, Norman, to start a new life by getting a crusty old motel up and running. Norma and Norman don't exactly have a typical relationship: Norma's impulsive and overprotective behavior makes it hard for Norman to fit in at school, and let's just say that Norman takes the term "mama's boy" to a potentially unhealthy level. Before these two can even settle into their new home, though, a traumatizing incident leaves them with blood on their hands.
Where it works: The show's biggest strength lies in Farmiga, who is excellent as Norma. She manages to both infuriate you and earn your sympathy over the course of the first episode, and Norma's charming yet erratic behavior is fascinating to watch, since you never know what she'll do next. The pilot is also compelling thanks to small twists on the original story: the Alfred Hitchcock film is set in 1960, but Bates Motel is wisely set in present day. Though certain aspects intentionally feel dated (like the house itself and Norma's wardrobe), Norman's day-to-day life as an awkward teenage millennial is a nice counterpoint to his creepy home life. The pilot is also packed with fun nods to the film, but you don't need to see Psycho to enjoy the TV series.
Where it doesn't: Though I'm confident that Bates Motel can stand on its own, it's impossible not to think about the sealed fate of Norman and Norma. I've loved watching Highmore grow up since Finding Neverland, but he's almost too sweet-faced and timid to play a character that's about to take a very dark turn. I'm willing to give him the benefit of the doubt (and a few more episodes), but in the pilot, Highmore is overshadowed and overpowered by Farmiga, especially in the most emotional scenes.
You might like this show if: You wish American Horror Story was less campy and more compelling.
When it's on: Mondays at 10 p.m. on A&E.
Watch a preview and see some pictures of Bates Motel when you read more.