Beautiful Creatures DVD Release Date
What to Rent: New DVDs This Week
Parker and Stand Up Guys are also available on DVD this week.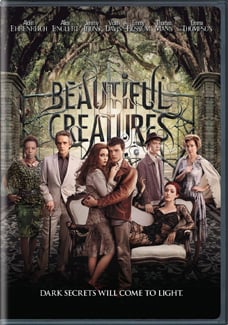 Alice Englert stars as a witch in this romantic, fantastical movie that may fill the void left by the end of the Twilight franchise. Set in the South, the adaptation of the young-adult novel follows Lena (Englert) as she discovers her powers and falls for local boy Ethan (Alden Ehrenreich). Jeremy Irons, Emma Thompson, and Viola Davis add some actor credibility to the cast, but it's Ehrenreich's charisma that makes the biggest impression. The DVD comes with a trailer for author Margaret Stohl's next book, plus deleted scenes.
45%
Steven Soderbergh directs Rooney Mara and Channing Tatum in a stylish thriller that puts antidepressants under the microscope. When Emily's (Mara) therapist (Jude Law) prescribes her a new drug to treat her anxiety, she comes out of the daze she's been in since her husband (Tatum) returned from prison. But soon enough, she begins to experience unexpected and dangerous side effects that involve her in a murder. Extras include a behind-the-scenes featurette and some fake drug-company commercials.

85%
A former LAPD narcotics officer (Arnold Schwarzenegger) moves to a quiet border town following a botched operation. Hoping to find solace there, he instead gets caught up in capturing an escaped convict: a notorious drug kingpin who threatens the security of the town. Schwarzenegger proves he's still capable of firing off one-liners, but the humor is generic, as is the action. The DVD will come with several featurettes as well as deleted and extended scenes.
59%