Beautiful Creatures Movie Review
Beautiful Creatures: Works Its Guilty-Pleasure Magic
Now that the Twilight movies have wrapped, there's a little room in the world for a new supernatural teen romance, and Beautiful Creatures nicely fills that void. Romantic, fantastical, and, yes, slightly cheesy, the movie depicts the love story between Ethan (Alden Ehrenreich) and Lena (Alice Englert). She's a caster (in common parlance, a witch), he's a mere mortal, and they both live in the sleepy, suffocating Southern town of Gatlin, SC, where not much happens. That's why the largely religious community takes such an interest in Lena and her suspiciously strange family (which includes Uncle Macon, played by Jeremy Irons). It's also why the relationship that blossoms between Ethan and Lena is so exciting — both for their characters and for the audience.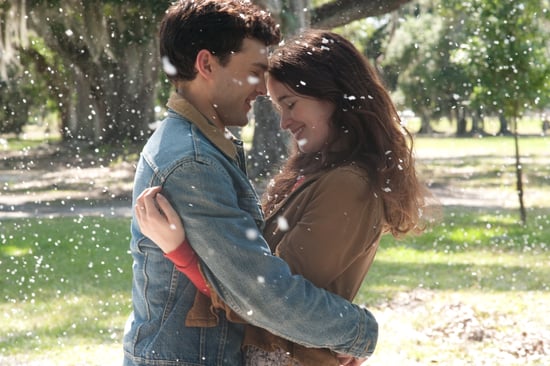 Based on the young-adult book series by Kami Garcia and Margaret Stohl, Beautiful Creatures doesn't bring anything too new to the already-inflated supernatural genre, but there is enough to set it apart. Aside from distancing itself from the usual vampire and werewolf fare by focusing on witches, the female character isn't the damsel in distress; she has to cast spells to keep her human love interest alive amid her family's powerful magic. There's an extra layer of intrigue since Lena is also hurtling toward her 16th birthday, when she'll be chosen to be a light or dark caster. If complicated young love is your thing, then you'll be spellbound by Beautiful Creatures. Keep reading to find out why.
One of Beautiful Creatures' assets is its array of Oscar winners and nominees in the supporting cast. Along with Irons, Emma Thompson and Viola Davis form the grown-up contingent in Lena and Ethan's lives, and the talent isn't wasted in this genre piece. They're having a grand old time in the supernatural world, whether they're uttering incantations or spinning the mythology of the town's ancestry. Emmy Rossum also makes a splash as "siren" Ridley, a good witch gone bad who makes waves and serves as a cautionary tale for Lena's future.
It's not the veteran actors who make the biggest impact, though: it's the up-and-coming male lead who plays Ethan. Ehrenreich may be relatively unknown now, but after this, I can't imagine that will last long. As the narrator, Ehrenreich has natural charisma to spare. It's easy to believe the strength of Lena's feelings for Ethan, though Ehrenreich could probably have chemistry with a paper bag. At one point, Ethan is told that he "drools charm," and you can't help but agree.
The movie has a surprising amount of wry humor, and the script is a bit smarter than we've come to expect from films of this genre. However, it's undermined by some very silly scenes and special effects. When the dialogue goes from sharp-witted to cheesy and rooms start to spin, it feels like just another teen movie. But the movie doesn't completely lose its footing, and it's ultimately a good time. Whether it becomes the new hot franchise or not, Beautiful Creatures gives us a new supernatural couple to root for — and a new star to crush on.