Beavis and Butthead Are Coming Back to TV; Creator Mike Judge Will Create New Episodes 2010-07-14 17:00:00
Beavis and Butthead Coming Back: Awesome or Unnecessary?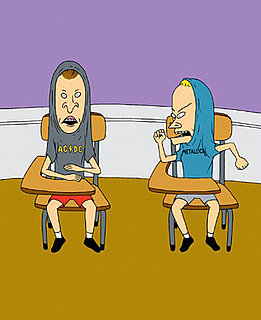 Dust off your old AC/DC t-shirt: classic '90s animated series Beavis and Butthead is coming back to TV, with creator Mike Judge writing brand-new episodes for the twosome. Word is that when we catch up with B and B, they'll still be in high school, but they'll be goofing on current pop culture.
I have one reaction to this news: huh huh huh. Seriously, as a kid who had to resort to subterfuge to watch episodes of the lowbrow but hilarious show, I have so much nostalgia for the metal-loving miscreants (like this and this). However, I know that not everyone was a fan of the MTV cartoon (including my parents). What do you think about this news?