Before Midnight Reddit AMA Highlights
"We're the Lowest-Grossing Trilogy of All Time" and More of the Best Quotes From the Before Midnight Stars
Ethan Hawke, Julie Delpy, and director Richard Linklater took to Reddit this week to answer questions from fans and Redditors about their film Before Midnight. The trio didn't stop there; they also shed some light on the past and (possible!) future installments in the series. Did Jesse (Hawke) ever pay the bartender for his bottle of wine in Before Sunrise? Is there a manlier name than Ethan Hawke? What inspired Before Midnight's ending? Find these answers (and more) below.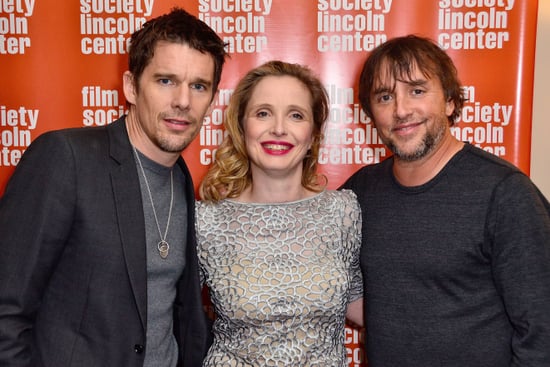 Reddit AMAs (Ask Me Anything) can be revealing, but often they're hard to sift through, so we did the sifting for you! Here are the most insightful and hilarious tidbits from the whole interview.
On whether Jesse ever repaid the bar owner in Vienna for the bottle of wine:

Ethan Hawke: Here's the vote: Julie says no. Rick says he would like to think so — he thought about it, he wanted to. And I have the actual answer, which is (believe it or not), when he showed up six months later, while he was waiting for Celine, in hopes of good karma, he went over to that place and tried to pay the guy back but the guy didn't work there anymore, so he just left someone else a tip.

On what type of movies they hope to be doing five years from now:

Richard Linklater: Well, Ethan hopes to be doing The Purge 7 so he can crank one out every six months.
To find out more answers, just read more.
On whether there is anyone in the world with a manlier name than Ethan Hawke:

EH: I think Arnold Schwarzenegger comes close. His name always sounded like a Triple X porn star to me.
RL: You should now confess that your middle name is "Lily."

On who wrote the "Milkshake" poem from the first movie:

RL: An Austin poet friend of mine named David Jewell, who's also in Waking Life.
EH: When I do interviews when Linklater is not here, I often claim credit for that poem.

On how the films have made money despite not being shown at giant franchise theaters:

RL: Well, the truth is these films don't make that much money. We're the lowest-grossing trilogy of all time (we like to say that).

On how close Celine and Jesse are to Delpy's and Hawke's personalities:

Julie Delpy: She's much nicer than me. Much, much nicer than me. No, seriously, she's more normal.
EH: Sometimes I feel Julie and I have a parallel life, and each one of these films turns out to be a stop on a railway station, or something like that. Where we're able to live this parallel life. Jesse is part me, part Rick, and part Julie. All three of us, as writers, have worked really hard to try to create a three-dimensional character on screen, a character where it's difficult to see where the actor ends and the character starts. That's always been our goal.

On avoiding procrastination:

RL: My advice would be to get your *ss offline and get to work.

On choosing landscapes for the films:

RL: The backdrop of the film becomes the third lead character. Although for us, it's always the last piece of the puzzle that we put together. I visited Greece in May of last year; I was on my way to a few other countries to look around. Two days in Greece convinced me to cancel the rest of the trip. It just seemed perfect; we had already found four of our major locations that would play in the movie, and it was very welcoming.

On Before Sunset's cliffhanger ending:

EH: Richard and I were working on the outline with Julie, and she started talking about how passionately she loved Nina Simone and kind of imitating her in concert, because neither Rick nor I had ever seen her. And Rick looked at me, and I knew that this was going to be the end of the movie.

On the future of the franchise:

RL: Is this the time we confess that we're shooting one in secret in Strasbourg now to come out at Christmas?
JD: I think we like keeping our time. We can't go back to those characters because we're exhausted from making this film, so we usually take our time before going back. It takes us nine years to recover between each film.