Beginners Movie Review Starring Ewan McGregor
Beginners: A Bittersweet Feast
It's impressive when a film can find magic and beauty in the everyday, and it's even more remarkable when a film can find such things in life's tragedies. The drama Beginners does just that, forging a lovely, touching gem from its main character's personal sorrow. Ewan McGregor stars as Oliver, a thirty-something man dealing with the death of his parents. When the film begins, Oliver has just lost his mother, but her passing prompts his father Hal (Christopher Plummer) to come out to his son. His other admission is that he has terminal cancer, so Hal only has a few more years to live, and he declares his intention to live the rest of his life as an openly gay man and experience all he had missed out on.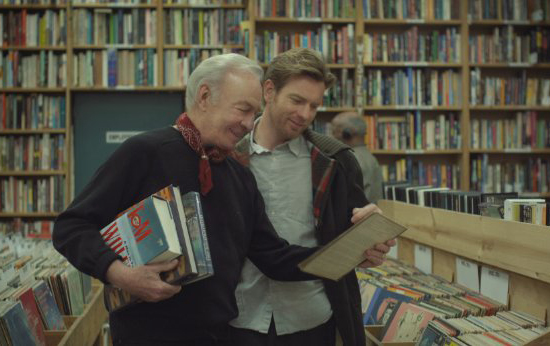 From there, the film follows two courses; one in which we witness Hal's final years as he lives it up and becomes closer to Oliver, and another that takes place after Hal has died. Grieving the loss of his father, Oliver tries to move on, and attempts to connect with a new love interest, Anna (Melanie Laurent). When Oliver meets Anna, a French actress who's frequently traveling for work, he's a melancholy shell of himself. His grief is heightened because his father's rediscovery of himself and subsequent happiness makes Oliver miss a man he was just getting acquainted with. As Oliver struggles to recover from loss, he finds solace in his memories, but it's uncertain whether he'll be able to let go enough to find the total happiness he obviously wants. While it's a setup that could be depressing or frustrating, the gentle hand of writer/director Mike Mills makes Beginners a gem of a movie that meditates on love, death, loss, and hope. To see why I loved the film, just
.
The film views the romance of Oliver and Anna through the lens of Oliver's grief. Moreover, Oliver also has to reconcile the lessons of love that his parents' marriage taught him. We see flashbacks of their union: while they weren't completely unhappy, they were unable to achieve a complete connection because of Hal's homosexuality. In hindsight, Oliver empathizes with his mother, as a woman in love with a man who couldn't fully return her affection. He also laments his father's compulsion to settle for the arrangement until his wife's death, and both conditions seem to contribute to Oliver's fear of falling in love. And yet, as he remembers Hal's bliss while falling for his boyfriend Andy (a wonderful Goran Visnjic), Oliver seems to finally recognize that there's hope for him too.
Oliver and Anna's relationship is sweet and swoon-worthy, especially at the beginning. However, it's also very realistic, because falling in love isn't all it takes to "fix" Oliver. Instead of uniting the couple and letting us assume they live happily ever after, we are invited to witness the relationship's development, including all the difficulties and obstacles that real couples go through in making a relationship work.
The strongest asset to the film is McGregor. You empathize with Oliver's pain so intimately, due to the actor's brilliant, nuanced performance. His eyes alone communicate Oliver's many emotions, particularly in the scene in which Oliver first meets Anna at a party, and she knows at once that he's just barely keeping it together.
Like many indie romances, there are some quirks, and there are some elements that verge on the precious. For instance, after his father's death, Oliver inherits his dad's dog, Arthur, and Oliver talks to him like he's a human. However, things don't go too far (don't worry, Arthur doesn't talk back), and it ends up being delicately funny, and even a little sweet, because it's another way Oliver deals with his father's death.
Ultimately, Beginners is an emotional story that feels both personal and specific to the filmmaker (Mills based it on his own experience with his father), but still relatable, even if you haven't lost a parent. Though Oliver's quest for happiness is a bumpy journey filled with heartache and hope, it's one that you feel honored to be a part of.