Behind the Candelabra Review
What to Expect From Behind the Candelabra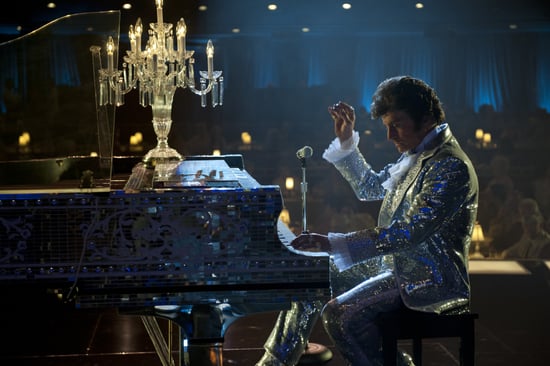 The promise of Michael Douglas and Matt Damon playing lovers — not a burning fascination with Liberace's life — will probably entice most people to watch HBO's Behind the Candelabra. But if you do tune in, then you'll find yourself intrigued by the flamboyant performer's story. After a few minutes of seeing Douglas in a pompadour wig and stage makeup, you'll forget it's him playing Liberace. And Damon's evolution from innocent farm boy to drugged-up Liberace lover and stage prop is subtly stunning. If you plan to watch when it airs Sunday at 9 p.m., then here's what to expect from Steven Soderbergh's look behind Liberace's famous candelabra. Just keep reading.
Overt Sexuality
There's a lot of sexual tension in Behind the Candelabra. From the opening scene when Damon's character, Scott Thorson, is hit on in a gay bar to the first time Liberace feasts his eyes on him, it's clear everyone wants a piece of this guy. And the audience gets some too, in the much-hyped shot of the actor's backside. Aside from that, the quick nudity, bedazzled swimwear, crotch grabs in a limousine, and a glory-hole visit keep the sex factor high. Still, the movie's love scenes convey a tender side to Liberace (or "Lee," as his friends call him) and Scott's relationship. And Soderbergh accomplishes his goal of having the audience realize it's a universal, not uniquely gay, love story.
The King of Bling
Before there was Lady Gaga, Elton John, or even Elvis, Liberace staked out his place as an over-the-top performer. As his career evolved, his costumes, ring collection, and stage show became increasingly extravagant, and by the time we meet him in Behind the Candelabra, he is starring in his elaborate show at the Las Vegas Hilton. Prepare to be blinded by the sequins.
A Peek Inside the Glass Closet
Liberace never acknowledged that he was gay, but the film makes it clear that it was anything but a secret to his inner circle. His agent works hard to keep the hetero-myth alive, arranging fake engagements to starlets, while Liberace keeps a harem of young men backstage and at his home.
Matt Damon Like You've Never Seen Him
Douglas isn't the only person who becomes Liberace in the film. Matt Damon does, too. Once under Liberace's spell, his character Scott is persuaded to get plastic surgery, as you can see in the trailer. At the star's direction, the makeover includes giving Scott distinctive Liberace features. The result will leave you missing the Matt Damon face you're used to. But in addition to Damon's understated performance, it helps make it believable that the 42-year-old actor is the teen ingénue he's playing.
A Strong Supporting Cast
Steven Soderbergh went so far to cast Liberace's real-life friend Debbie Reynolds to play the performer's mother in the film. The director also tapped strong actors for smaller parts, including Dan Aykroyd as Liberace's agent and Rob Lowe as a frozen-faced plastic surgeon. Lowe's scenes provide comic relief and might leave you wondering how he kept from laughing himself.
Piano Songs Stuck in Your Head
Michael Douglas kicks off the film's stage performances with "The Liberace Boogie." Both the piano playing and Douglas's mastering of Liberace's Wisconsin accent will mesmerize you. The soundtrack for Behind the Candelabra is packed with new music as well as Liberace classics, some of which you're bound to have stuck in your head on Monday morning.
To get a taste of the real Liberace and his chauffeur and companion Scott Thorson, watch the clip from a 1981 Vegas show below.