Bel Ami DVD Release Date
What to Rent: New DVDs This Week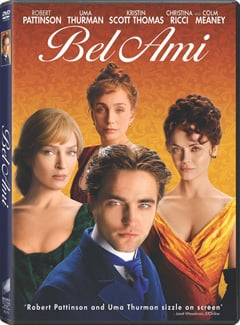 Stepping outside of the Twilight franchise, Robert Pattinson stars as Georges Duroy, a young soldier sleeping his way into the upper echelon of late 19th century Paris society. On his way to the top, Georges romances many women, including Madeleine (Uma Thurman), Clotilde (Christina Ricci), and Virginie (Kristen Scott Thomas). Despite a beautiful backdrop and cast, Pattinson's performance falls flat, along with the film. The DVD comes with interviews with the main cast and directors Declan Donnellan and Nick Ormerod.
28%
Danny DeVito voices the titular character from Dr. Seuss's classic children's book in this musical CGI retelling. Zac Efron also lends his vocals to the film as a boy searching for a Truffala tree to win the affections of his dream girl (Taylor Swift). While on his journey, he encounters The Lorax, a furry orange creature dedicated to preserving the once-bountiful land. The message may be pure, but the frenetically paced movie is muddled with too much action and music. Extras include three short films, sing-a-longs, featurettes, and deleted scenes.
55%
One more release when you read more.
Rare footage of Bob Marley takes center stage in this highly watchable documentary about the late reggae legend. The film examines his life, starting from his childhood in Kingston, and includes several interviews with those who were close to Marley, from his boyhood schoolteacher to the women who mothered his children. It's a gripping oral history that illustrates the lasting impact on the reggae and popular music scene that Marley had. The DVD features extended interviews, a photo gallery, and commentary by director Kevin MacDonald and Ziggy Marley.

95%