Ben and Kate TV Show TCA Panel
Ben and Kate: Where You've Seen the Stars, and Why It Matters
New Fox comedy Ben and Kate is about the relationship between a brother and sister (played by Nat Faxon and Dakota Johnson) as well as their friends and family. The cast and showrunners came to TCA today to talk about the series, and seeing them all together reminded me that the cast is full of actors you've probably seen before. Chances are, you've been entertained by them in one way or another, so I'm telling you where the main cast has popped up and why those connections might get you to watch.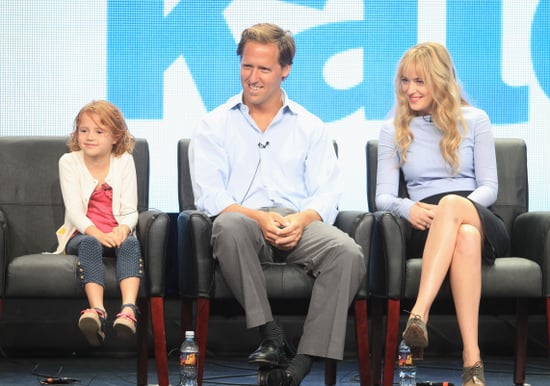 Nat Faxon: It's likely you've seen Faxon in one of many small roles in comedies like Bad Teacher and Beerfest, but his most recent career success wasn't for acting — he won an Oscar for writing the screenplay for The Descendants. Faxon said that he booked Ben and Kate the day after he won the Academy Award, and he joked that the showrunners wanted an Oscar winner, but "Aaron Sorkin doesn't deliver." He hasn't contributed to any writing for Ben and Kate yet, but series creator Dana Fox said she's trying to get him to warm up to the idea.
Dakota Johnson: Johnson comes from Hollywood royalty (her parents are Melanie Griffith and Don Johnson and her grandmother is Tippi Hedren), but she's been racking up smaller parts over the last couple of years, most notably in The Social Network (as the Stanford coed who wakes up with Sean Parker) and in The Five-Year Engagement (as Jason Segel's rebound). It sounds like she inherited a solid work ethic; Dana Fox said Johnson is "not afraid to look stupid or silly or ugly" for the show. As for her famous parents, Johnson said she didn't know if they would ever guest star but joked, "This is my show!"
Maggie Elizabeth Jones: You may remember Jones's adorable little face from We Bought a Zoo, as Matt Damon's daughter. She's just as cute on Ben and Kate as Kate's daughter, and Faxon said that the cast has to "succumb to the fact that we're not as adorable" as Jones. Her costar Lucy Punch complimented the 8-year-old for being "very naturally funny," while Jones said her costars also make her laugh, but "Nat is the silliest."
Lucy Punch: The British comedienne plays BJ, a co-worker of Kate's. On the big screen, Punch has stolen scenes in movies like Bad Teacher, You Will Meet a Tall Dark Stranger, and Dinner For Schmucks. Here, she gets to use her real accent, and Punch pointed out that "British comedy tends to be darker and meaner" than American humor, which should come in handy for the character of BJ, who has plenty of borderline rude but funny zingers in the pilot.
To see more pictures from the panel, just read more.