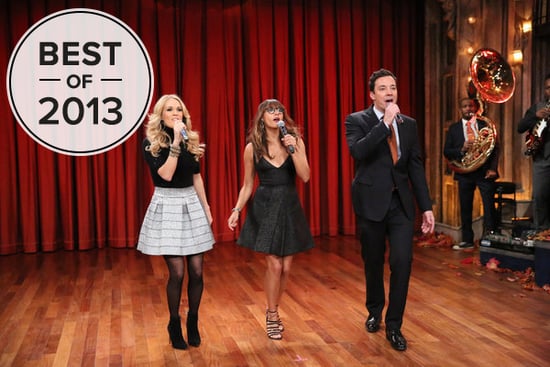 The year's most memorable late-night TV moments became a battle of the Jimmys, with Jimmy Fallon and Jimmy Kimmel bringing viral videos to the Internet week after week. With "Timberlake Tuesdays," Jimmy Fallon had fans tuning in to see his hilarious skits with pal Justin Timberlake, including the latest edition of their hit sketch "History of Rap." Fallon also let other stars show off their musical talents, like with John Krasinski and Joseph Gordon-Levitt taking the mic for epic lip-synch battles. Meanwhile, Jimmy Kimmel proved he's the master of pranks and parodies, giving us a crazy twerk fail and a "Blurred Lines" spoof to remember. Have a laugh with 2013's best moments from the late-night Jimmys.
Jimmy Fallon
Fallon joined First Lady Michelle Obama for "The Evolution of Mom Dancing."


Ahead of Easter, Nick Offerman and Blake Shelton clucked their way through "Ho Hey" as the Chickeneers.


John Krasinski brought down the house with his lip-synch skills.


. . . And so did Joseph Gordon-Levitt.


Keep reading for more of the year's best late-night videos.
Game of Thrones came to late night with Fallon's "Game of Desks" spoof.


Brad Pitt did a "double yodel" with Fallon from the rooftops of NYC.


Ryan Reynolds proved that water fights can actually be hot.


Full House fans went wild when Jesse and the Rippers reunited for a performance.


Fallon's impressive take on Breaking Bad? "Joking Bad."


Justin Timberlake brought his moves to the stage with "Evolution of End-Zone Dancing."