Best New Fall Shows 2013
Fall TV: Our New Obsessions
Nearly all of Fall TV's new series have debuted, and some have captured our interest more than others. Our editors live and breathe pop culture, and we're pretty huge TV nerds. Read on to find out which new series we're obsessed with, and I'm not talking about the shows we've got piled on our DVR. I'm talking about the shows we can't miss, the ones we watch night-of, the ones we try to talk our friends into watching so we don't have to turn to fan blogs.
The Crazy Ones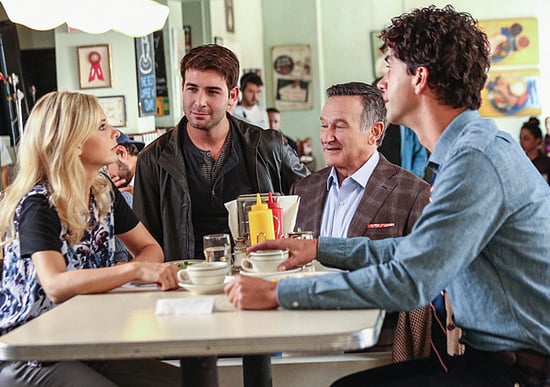 It took me a couple of episodes, but I'm all in on The Crazy Ones. Robin Williams is sharp as ever with his uniquely frenetic style of comedy, but he's not the only highlight of the show. The ever-adorable James Wolk has finally found a place to be charming every week, and Hamish Linklater is an ideal foil for those of us who prefer to crush on the quirky, offbeat sort of cute, funny guy. My only wish is that they find another dimension for Sarah Michelle Gellar's workaholic daughter-of-the-boss character. She has had some funny moments, but hopefully with the full-season pickup, we'll get to see the more relatable side of her we've loved for all these years.
— Molly Goodson, VP of content
The Blacklist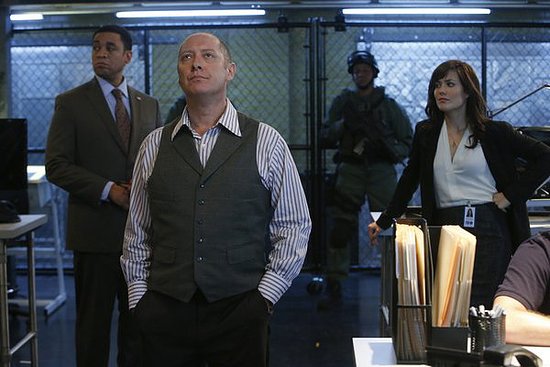 I'm not always into suspenseful, crime-related TV series, but The Blacklist has quickly become one of the shows I look forward to each week. James Spader plays a perfectly arrogant, intriguing criminal named Raymond Reddington, and although he has a deal with the FBI to help them take down a "black list" of criminals, there's an element of mystery that makes you question his motives. Adding to the show's tension is Reddington's odd obsession with one of the new agents, Elizabeth Keen (Megan Boone), and I'm already invested in learning more about their connection. Although some plot points can feel predictable, there's enough scheming and surprise to keep me hooked, and I'm anxious to find out more about Elizabeth's suspicious husband, who doesn't seem to be who she thought he was.
— Laura Marie Meyers, assistant editor
Trophy Wife

Trophy Wife has surprised me with how funny it is. While Malin Akerman is charming as the new wife of Bradley Whitford's character, this show is all about its quirky ensemble. Marcia Gay Harden and Michaela Watkins are distinctly hilarious, and the kids are so funny too, particularly Bert (the young Albert Tsai). If you love Modern Family, then you should give this show a shot.
— Shannon Vestal, editor
Get more of our favorite new shows after the jump.
The Goldbergs

I was barely alive for the '80s, but I'm still allowed to get nostalgic about a show that's set in the unique decade. Between the wacky family members, the moral lessons that come along with every episode, and the voiceover (à la The Wonder Years and My So-Called Life) from the Goldbergs's youngest member, the series reminds me of the shows I grew up watching in syndication. Plus, I just can't resist the brotherly love between bizarre Barry (Troy Gentile) and little Adam (Sean Giambrone).
— Maggie Pehanick, assistant editor
Sleepy Hollow

Sleepy Hollow is so high-stakes and action-packed, I barely have a second to catch my breath. I love the amalgamation of different types of fantastical genres, from witchcraft to the biblical End of Days to mythological folklore. The cast of sinister villains grows with each episode, with the big bad Moloch looming above them all. Not to mention, the show is carried by a strong cast and is completely riddled with mysteries; I can't seem to tear myself away.
— Ryan Roschke, editorial assistant
Brooklyn Nine-Nine

If it were real, I'd flirt with the idea of committing a relatively benign crime — loitering, perhaps — in Brooklyn's Ninety-Ninth precinct in order to spend more time with Detective Jake Peralta (Andy Samberg) and his fellow officers. It was a true genius who decided to combine America's most loved TV genre, cop shows, with comedy and create Brooklyn Nine-Nine. I'm grateful for the continued employment of Andy Samberg and the rest of his butt-kicking and name-taking crew that includes actors Andre Braugher and Terry Crews. Apparently Fox agrees that this show is a keeper, because it ordered a full season!
— Allie Merriam, reporter
The Originals

My decision to watch The Originals was a no-brainer: I'm a fan of The Vampire Diaries and an even bigger fan of Klaus. That said, the spinoff stands on its own with an exciting new setting (bye, bye, boring Mystic Falls; hello, Bourbon Street), intriguing new characters, and far less teenage angst. I'm still forever rooting for Klaus and Caroline to get together, but once the show is picked up for a full season (and trust me, it will be), a TVD crossover is inevitable. Until then, the originals know how to do the vampire genre right.
— Becky Kirsch, director
Masters of Sex

Showtime's Masters of Sex is highly addictive, and not just because it explores the science of an orgasm. The series tells the story of William H. Masters and Virginia E. Johnson, the powerhouse duo that pioneered sexuality research. Each episode is a reminder of how much sensibilities have evolved since the 1950s. With morally ambiguous characters and vintage clothing and sets, Masters of Sex just might be the perfect show to watch if you're experiencing Mad Men withdrawals.
— Nick Maslow, editorial assistant