Best Saturday Night Live Cast Members
Buzz In: Who's Your Favorite Saturday Night Live Alum?
Jimmy Fallon just confirmed that he'll host Saturday Night Live in December, and I couldn't be more ecstatic — the late-night fixture has never hosted the show since he left it in 2004, and I think it's about time. Fallon is definitely one of my favorite SNL alums, because of characters like Barry Gibb and the fact that he could barely keep it together during skits.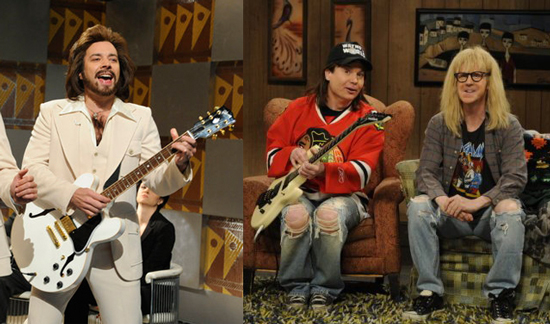 In addition to Fallon, I'll also always have a soft spot for former cast members like Tina Fey, Adam Sandler, Mike Myers, and Dana Carvey. There are so many other comedians (Will Ferrell, Eddie Murphy, Molly Shannon, Bill Murray . . . ) who got their start on the variety show, so I want to hear who your most beloved alums are, whether you loved them when they were on the show or in their post-SNL career (or both!).
Photos courtesy of NBC