Think sci-fi films are only for nerds? You couldn't be more wrong. From thrillers to comedies and romance, sci-fi movies can incorporate elements from any genre you can think of (and yes, sci-fi can even be sexy [1]). Even if you've decided that sci-fi novels [2] aren't for you, sci-fi movies are a lot more diverse than you might think, and you'd be remiss not to give them a shot. We've rounded up the best sci-fi movies available to stream on Netflix right now, and no matter what genre you're into, we guarantee that there's a sci-fi movie out there for everyone.
I Am Mother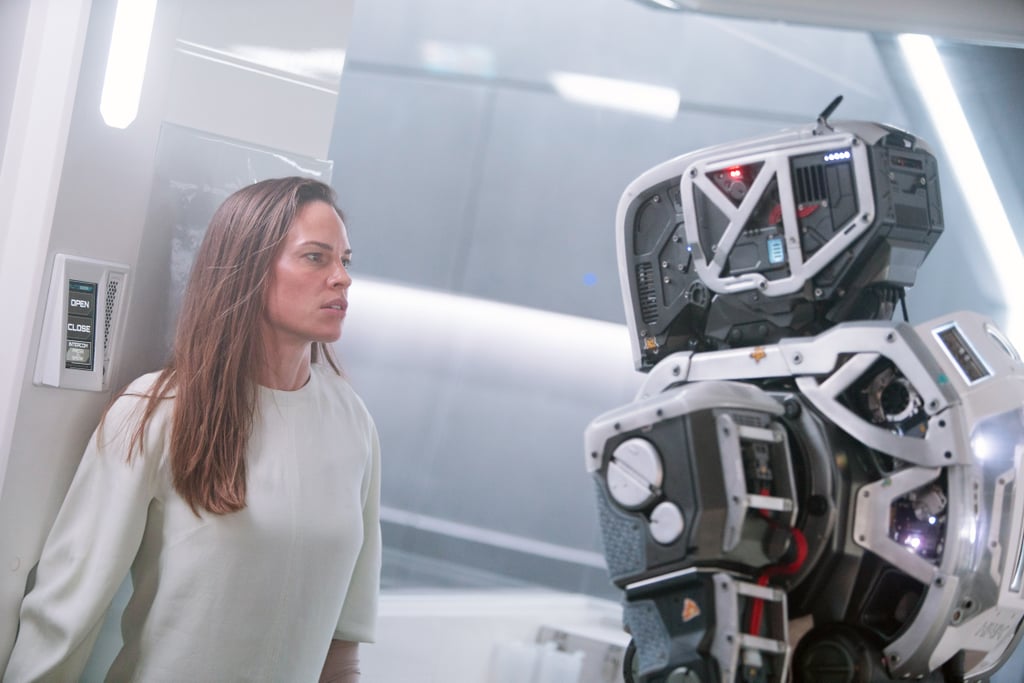 Starring Hilary Swank [4] and Rose Byrne, this sci-fi thriller tells the story of a teenage girl raised by a robot designed to repopulate the earth. However, an unexpected encounter with a gravely wounded human woman forces the teen to question everything she was told by her robot Mother about the outside world.
Watch I Am Mother on Netflix [5].
Rim of the World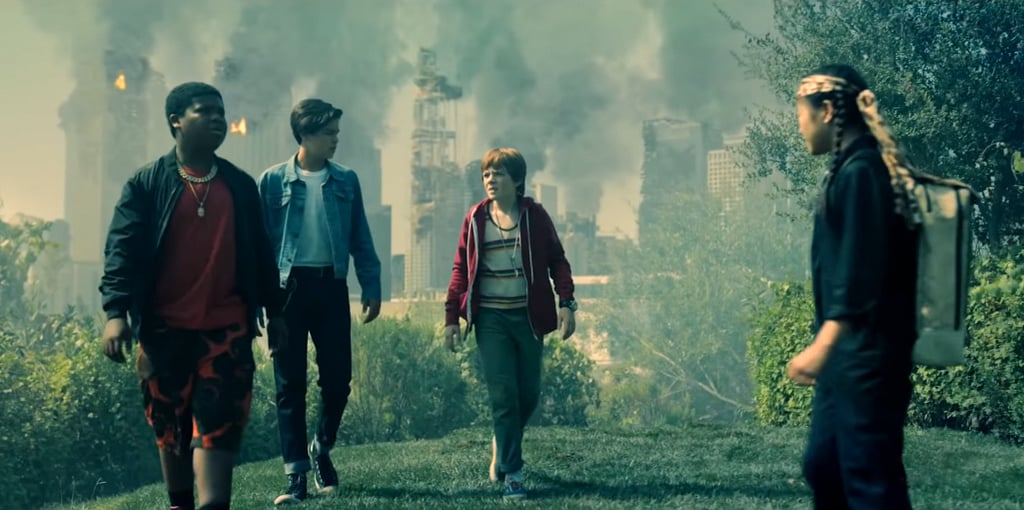 This adorable sci-fi adventure flick takes place at a Summer camp, where four misfit teens must join forces when an alien invasion ruins their Summer fun. Anyone else feeling major Stranger Things [6] vibes?
Watch Rim of the World on Netflix [7].
See You Yesterday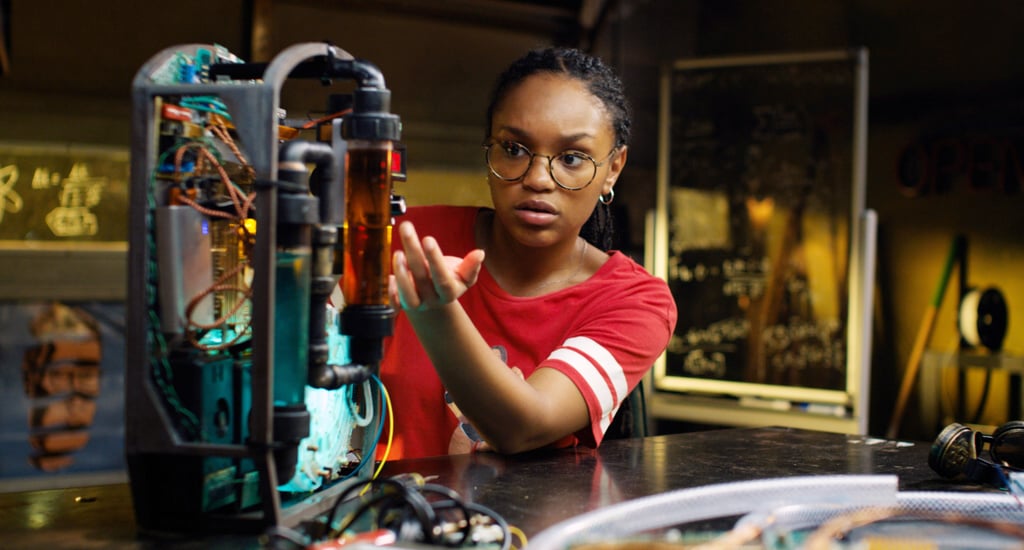 In this incredibly cool sci-fi drama, two science geek best friends, C.J. and Sebastian, work together to create a time machine that will allow them to save C.J.'s brother, who was wrongfully killed by a police officer. Time travel hasn't been this cool since Michael J. Fox [8] did it in Back to the Future.
Watch See You Yesterday on Netflix [9].
IO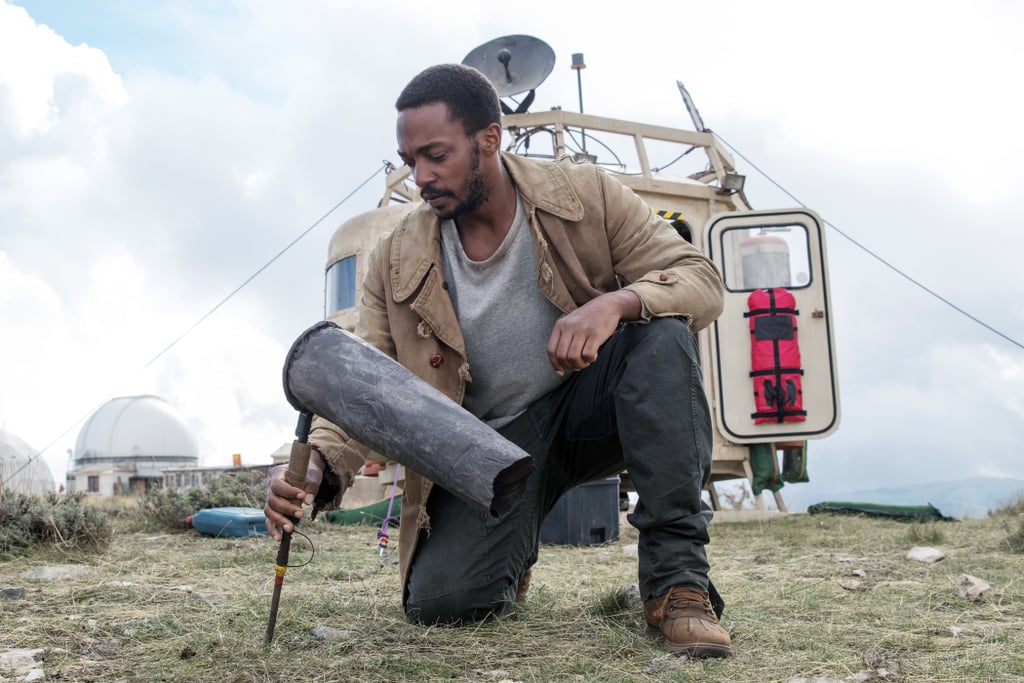 Starring Andie MacDowell's daughter Margaret Qualley (otherwise known as Jill Garvey from HBO's The Leftovers) and Anthony Mackie (who you may know as Falcon from the Marvel Universe), this sci-fi action film follows one of the last survivors on Earth as she attempts to find a way for human beings to survive on Earth. However, the only human she makes contact with is a man determined to take the final shuttle leaving Earth for a distant colony.
Watch IO on Netflix [10].
Mirage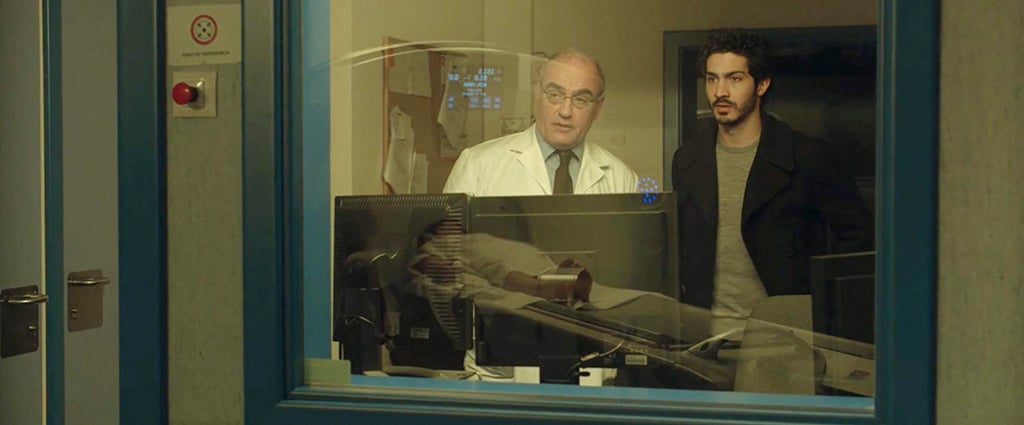 In this Spanish sci-fi thriller, a happily married mother named Vera learns that there is a possibility of saving the life of a boy who lived in her home 25 years earlier. Unfortunately, this good deed provokes a chain reaction, and Vera wakes up in a new reality where her daughter has never been born and her husband does not even know her.
Watch Mirage on Netflix [11].
Ex Machina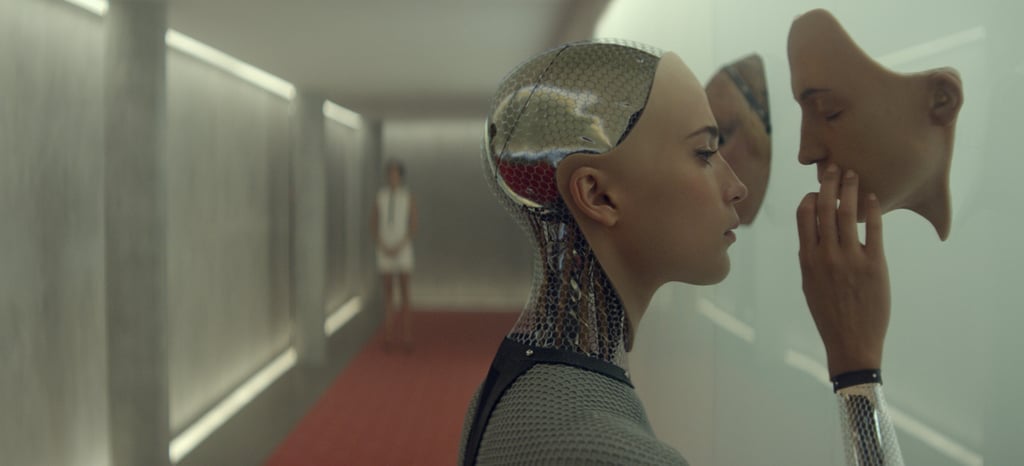 In perhaps the sexiest sci-fi film ever made, Tomb Raider star Alicia Vikander and Crazy Rich Asians actress, model, and ballerina Sonoya Mizuno play two female humanoid robots desperate to experience the outside world, even if that means killing their creator. Think Westworld, but even wilder.
Watch Ex Machina on Netflix [12].
Her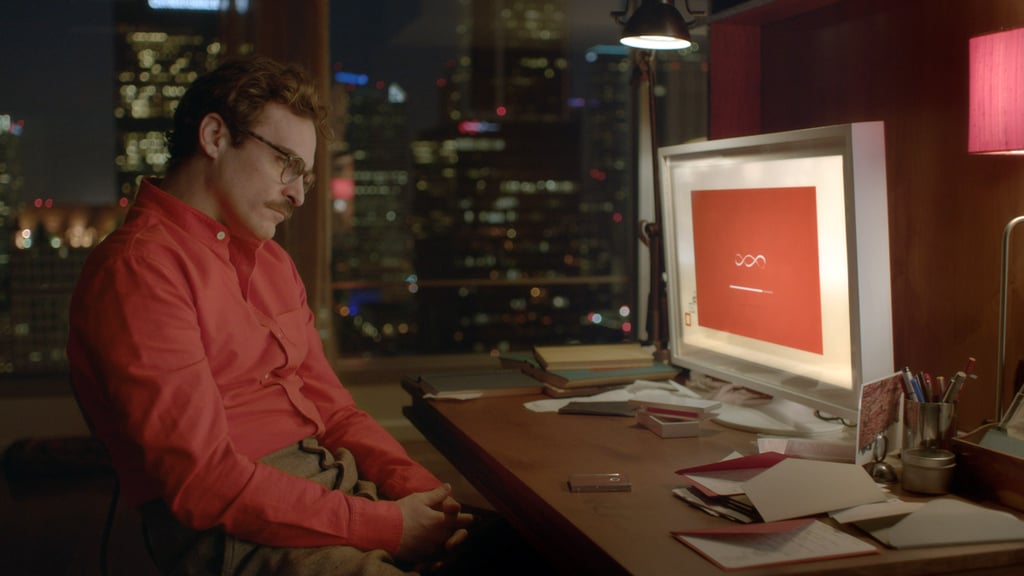 Though Scarlett Johansson [13] never actually appears in this film, she still manages to woo us (and Joaquin Phoenix [14]) as the sexy voice of Samantha, a new operating system with a sensitive, playful personality. We'd like to see Siri try to do that.
Watch Her on Netflix [15].
Bird Box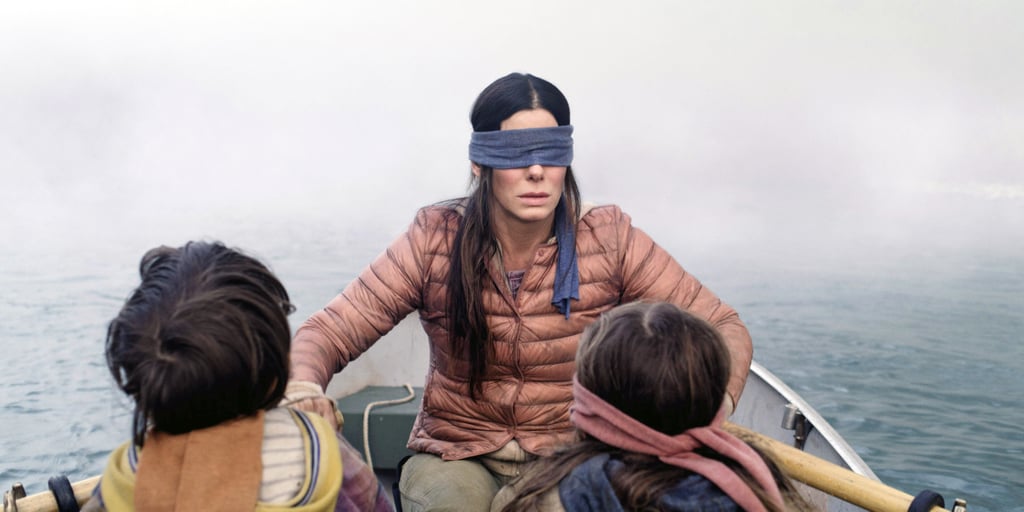 With a cast that includes Sandra Bullock [16], Sarah Paulson, and John Malkovich, this post-apocalyptic horror film follows a woman and her children in their attempt to find sanctuary after a mysterious force decimates most of the population. However, there's a catch — to avoid succumbing to the same fate, they must complete the trip blindfolded.
Watch Bird Box on Netflix [17].
The Silence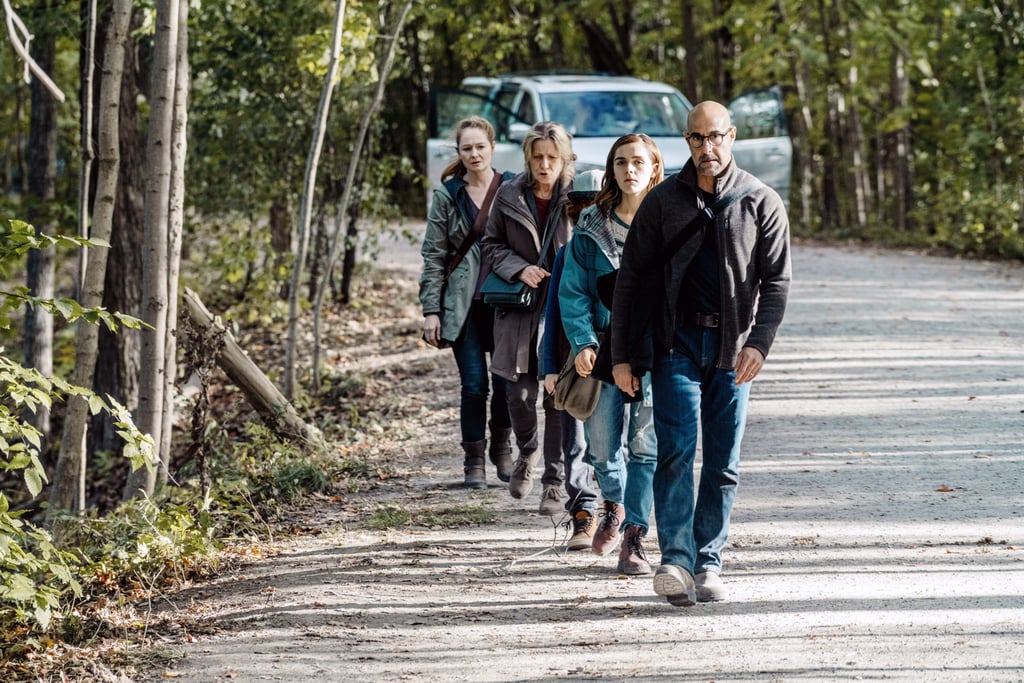 Starring Kiernan Shipka and Stanley Tucci, this horror film tells the story of a deaf teen named Ally who moves with her family to escape terrifying creatures who hunt humans by sound. In their remote new town, they instead face a new threat: a cult that wants to exploit Ally's heightened senses.
Watch The Silence on Netflix [18].
Under the Skin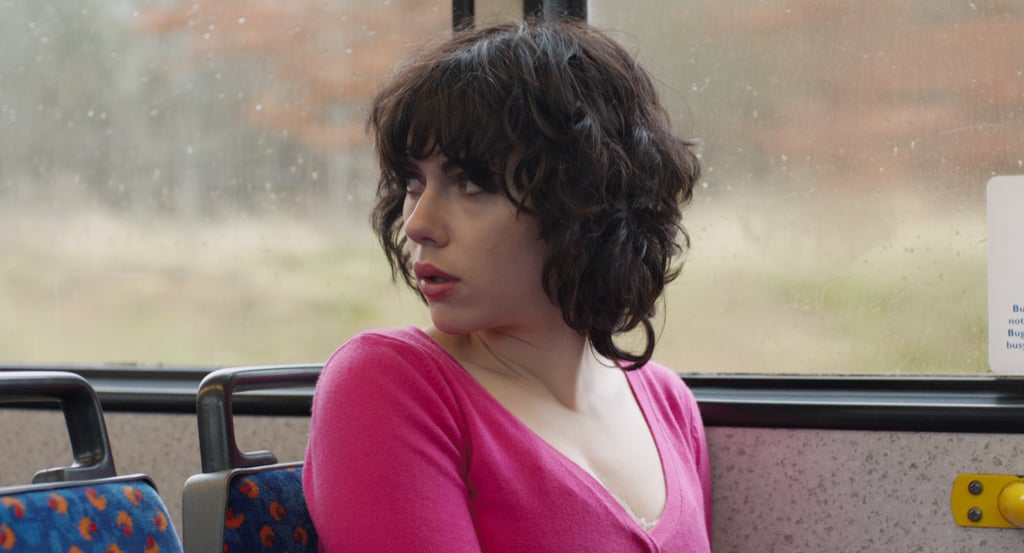 Scarlett Johansson [19] stars in this movie about a predatory alien disguised as a beautiful woman who tries to lure unsuspecting male victims into her van. To be honest, we're not sure we'd be able to resist the temptation of Johansson either.
Watch Under the Skin on Netflix [20].
The Terminator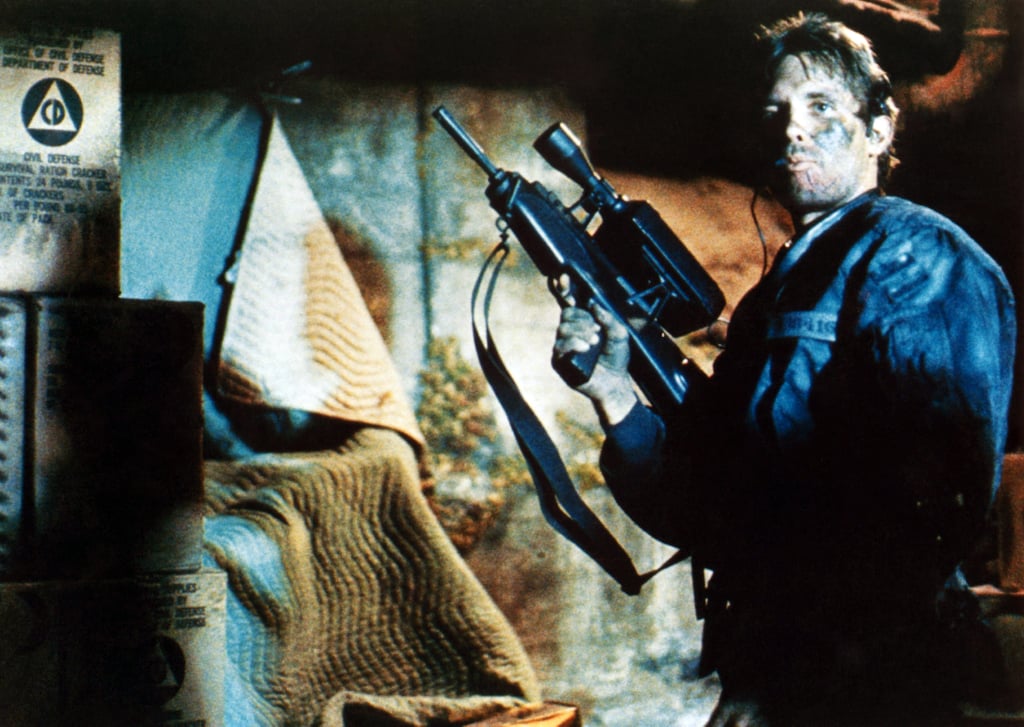 If you want to see the film that launched filmmaker James Cameron's career (and solidified Arnold Schwarzenegger [21] as one of the greats), then you'll want to watch this sci-fi classic, which eventually led to an insanely popular franchise with four sequels. Schwarzenegger plays a cyborg assassin sent from 2029 back to 1984 to kill Sarah Conner before she can give birth to a future resistance leader, and it's a must-see if you want to know where everyone's fear of an AI takeover (and the catchphrase "I'll be back") originated.
Watch The Terminator on Netflix [22].
Gremlins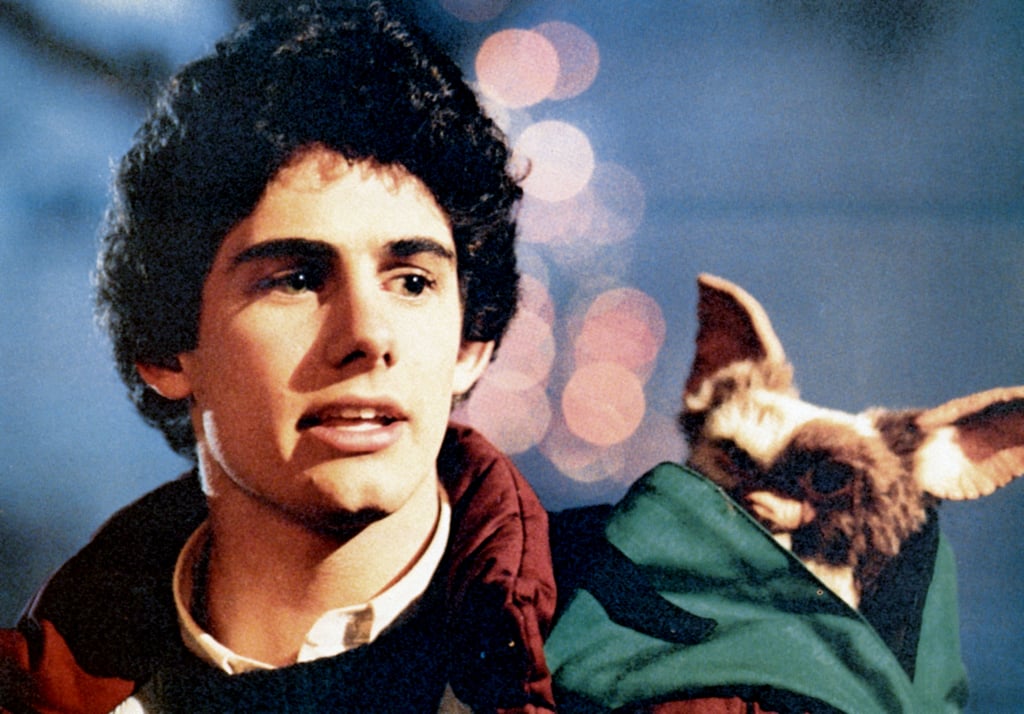 Basically every kid growing up in the '80s (and probably every adult, too) was given nightmares by this horror flick about cute little pets called mogwais that — when exposed to light, water, or food after midnight — turn into hell-raising beasts called Gremlins. And you thought your possessed Furby was scary.
Watch Gremlins on Netflix [23].
The Matrix
What is the Matrix, you ask? Neo (Keanu Reeves [24]) believes that only the elusive figure known as Morpheus (Laurence Fishburne) can answer that question, and when a beautiful stranger named Trinity (Carrie-Anne Moss) leads him into an underworld to meet Morpheus, he tries to get the answer he seeks, not knowing that the truth could cost him his life — or something even more valuable. Even if this one leaves you feeling more confused than 2010's Inception, it's still a total thrill to watch.
Watch The Matrix on Netflix [25].
Eight Legged Freaks
As you can probably gather from the title, this monster comedy revolves around the SUV-sized spiders — created as the result of a chemical spill — and the people forced to take them down (including David Arquette [26] and Scarlett Johansson [27]). Gross? Yes, but still way funnier than you'd expect.
Watch Eight Legged Freaks on Netflix [28].

Limitless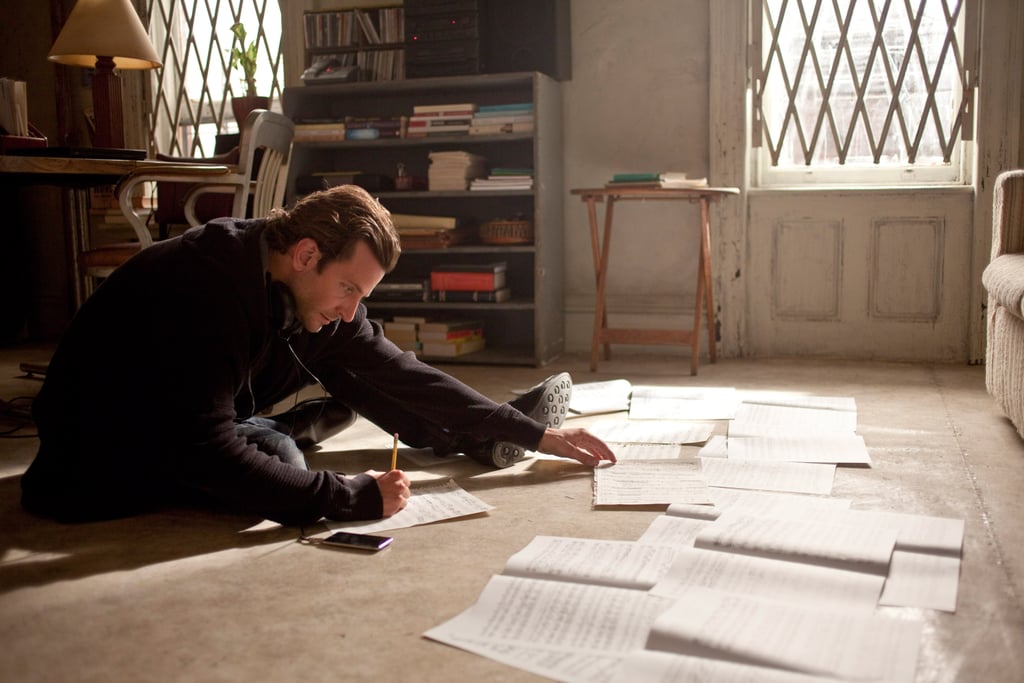 Bradley Cooper [29] stars in this underrated movie as a down-on-his-luck writer named Eddie who — when given a drug that enhances mental acuity — finds himself rising through the ranks in the world of finance. Though a major tycoon (played by Robert De Niro [30]) hopes to use the young man for his own gain, Eddie's dwindling drug supply spells big trouble for them both.
Watch Limitless on Netflix [31].
The Butterfly Effect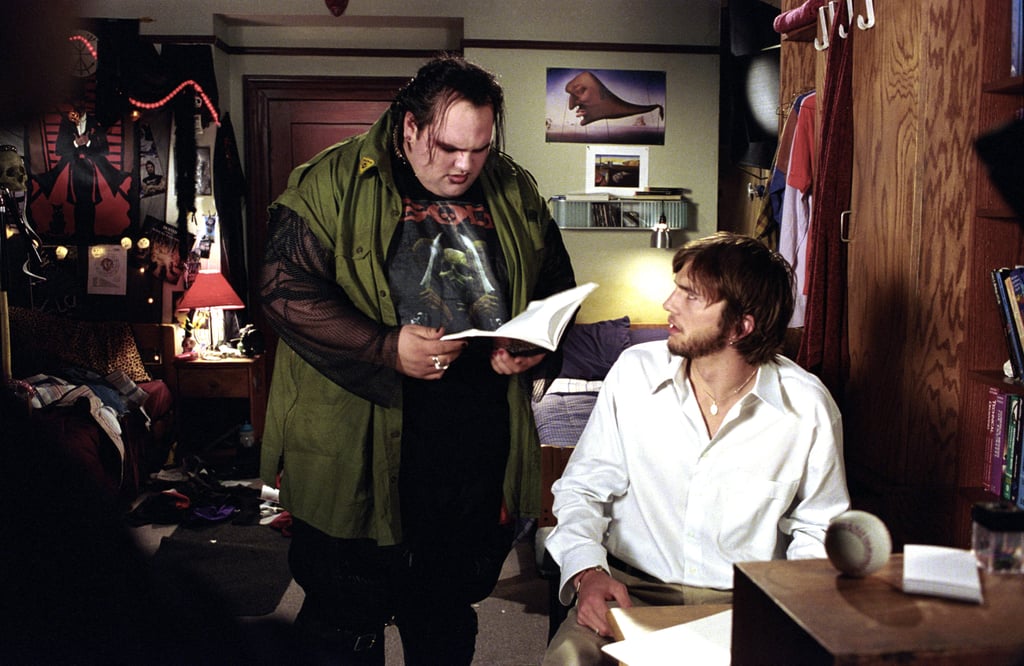 The flap of a butterfly's wing in Brazil sets off a tornado in Texas. The ability of Ashton Kutcher [32]'s character in this movie to travel back in time to tragic moments (both in his life and in friends' lives) and then try to change those moments sets off a nightmarish chain of events.
Watch The Butterfly Effect on Netflix [33].
The Discovery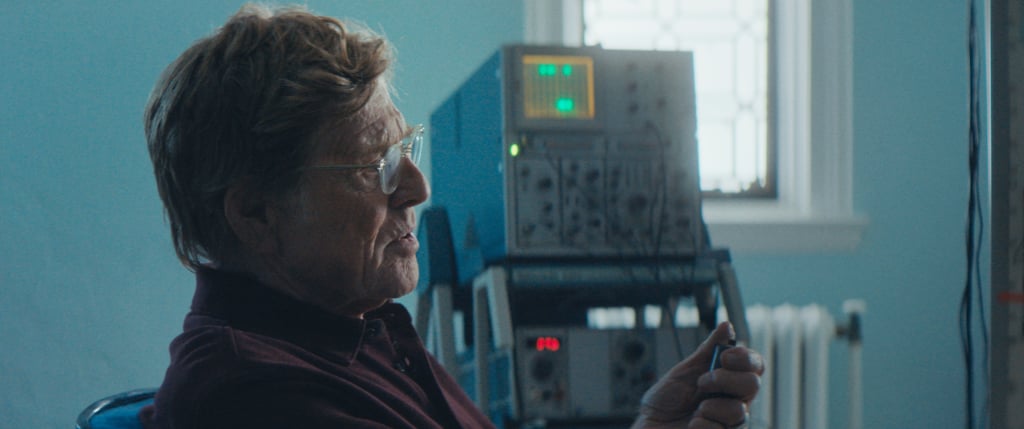 In this sci-fi romance, Jason Segel [34] stars as Will, the son of a famous scientist who — due to a scientific breakthrough — has found definitive proof of an afterlife, which then leads to a huge spike in suicides. When Will and a mysterious woman he encounters (played by Mara Rooney) visit his dad's estate two years after his discovery, they learn the dark truth behind his complicated experimentation.
Watch The Discovery on Netflix [35].
The Fifth Element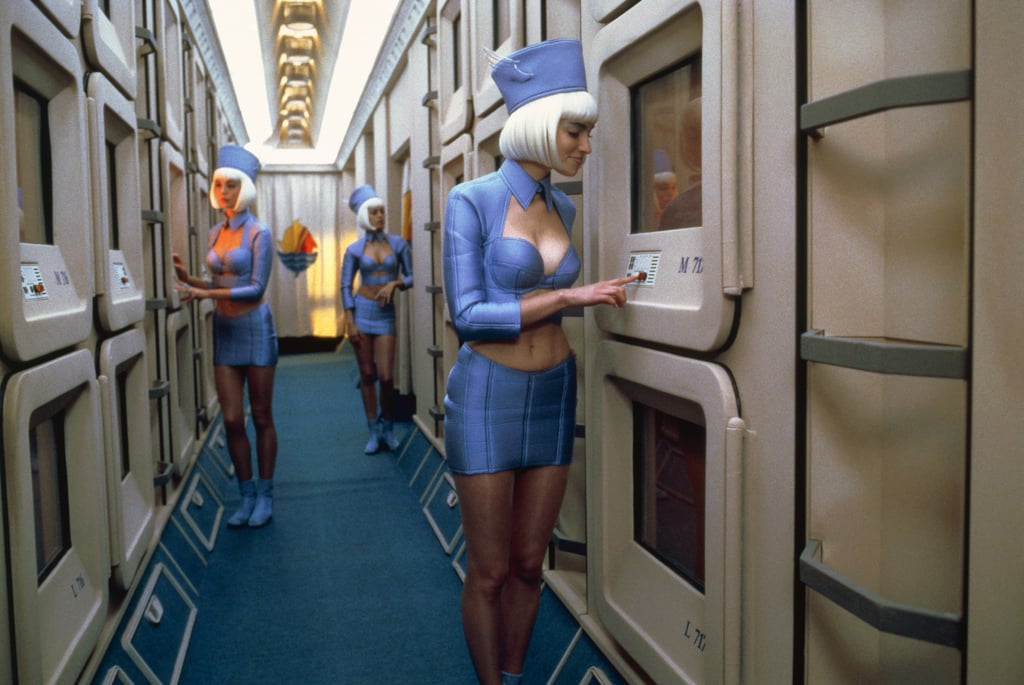 This '90s flick takes place in the 23rd century, following a special forces major-turned-NYC cab driver (played by Bruce Willis [36]) whose job gets a little more complicated when a young woman named Leeloo (played by Milla Jovovich) falls into his cab. Together, they must recover four mystical stones which — when joined with Leeloo, who embodies the fifth element — will save the Earth from an impending attack.
Watch The Fifth Element on Netflix [37].
The Box
Based on the 1970 short story "Button, Button" by Richard Matheson, this freaky sci-fi flick stars Cameron Diaz [38] and James Marsden as a couple who get an unexpected gift from a mysterious man: a box that — if they press a button on the top — will earn them a million dollars. But there's a catch: once they push the button, a stranger will die.
Watch The Box on Netflix [39].
The Space Between Us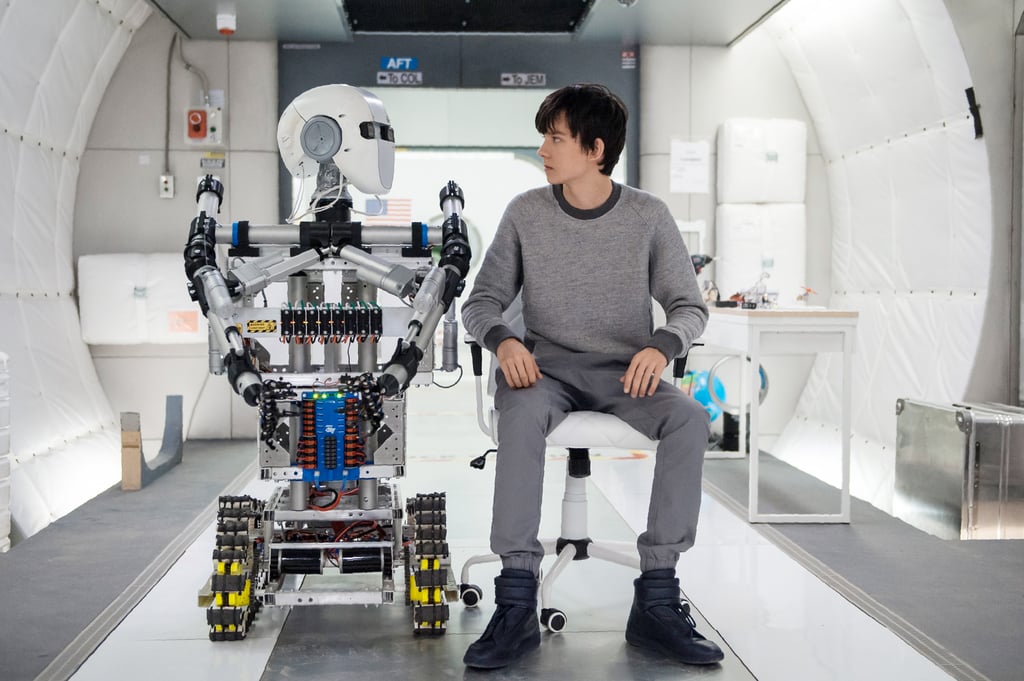 Sex Education's Asa Butterfield stars in this sci-fi romance as Gardner, the first human born on Mars, who begins an unexpected online friendship with Tulsa, a teen in Colorado. Gardner finally travels to Earth with plans of meeting up and running away with Tulsa, but that plan becomes complicated when it's discovered that Gardner's organs can't withstand the atmosphere.
Watch The Space Between Us on Netflix [40].
iBoy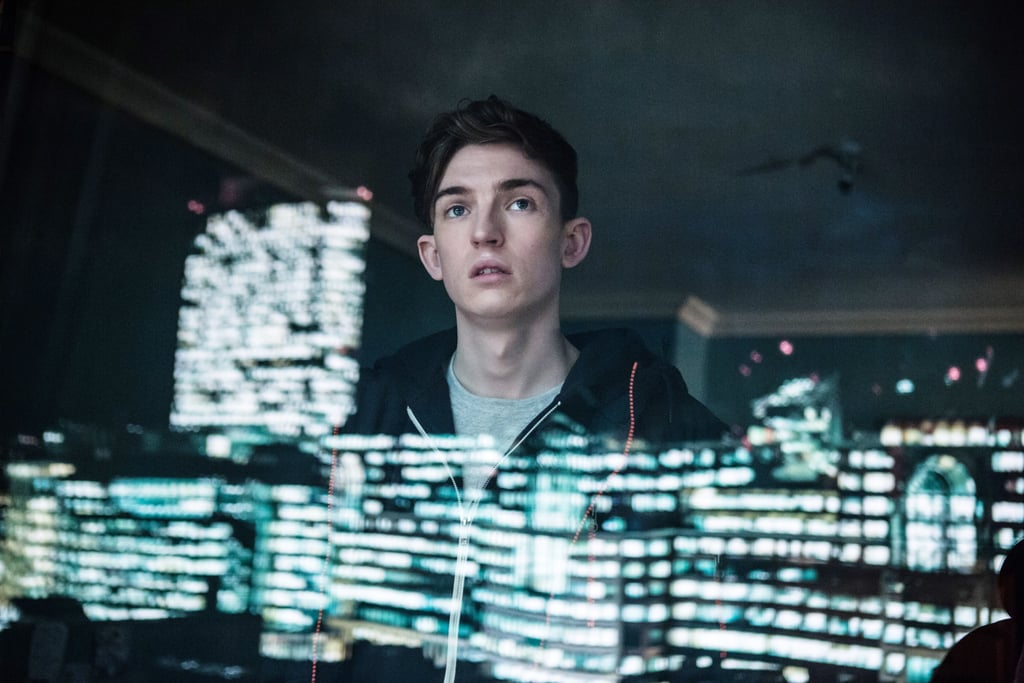 This sci-fi thriller — based on the 2010 novel of the same name by Kevin Brooks — tells the story of Tom, a teen (played by Bill Milner) who gets fragments of his phone shot into his head, giving him some pretty crazy abilities. Maisie Williams (also known as Game of Thrones's fierce Arya Stark) costars as Lucy, the friend and love interest of Tom for whom he uses his new powers to exact revenge.
Watch iBoy on Netflix [41].