Better With You ABC Sitcom TCA Panel Details, Quotes, and Pics
The TCA Gets Better With the Better With You Cast
New comedy Better With You took the stage to represent as ABC's new multicamera sitcom during the Summer TCA. Fan favorite Joanna Garcia was on hand to talk about the Fall show along with her costars and the show's creators.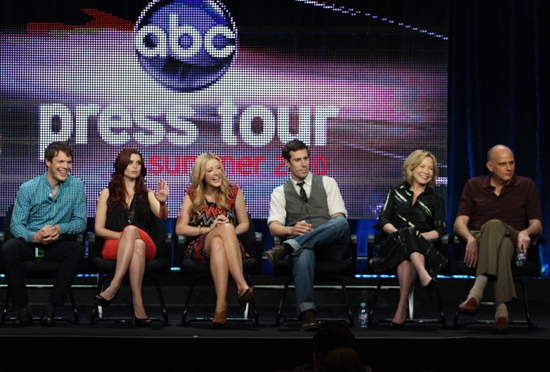 The relationship comedy focuses on three different relationships in different stages (one couple is newly engaged, one has been together for nine years but is unmarried, and one is a couple that's been together for 30 years) and that in and of itself is the point. Jennifer Finnigan, who plays older sister Maddie, said, "Everybody's writing their own rules . . . It's current to me."
Garcia and Finnigan, who play sisters, knew each other before the series; in fact, Garcia rooted for her to get the job, accompanying creator Shana Goldberg-Meehan to have a lunch to woo Finnigan. She jokes that they were "on our best behavior . . . we were really trying to look really normal and cool together."
To hear some more about the show's panel, just
.
The relationship focus of the show set off an array of personal questions for the cast, particularly Garcia, who was questioned about the fact that she's been engaged twice. The ever-composed actress made a joke about it, telling the reporter who brought it up: "I just want you to know that is going to go down in record books. I might tell the story on a talk show at some point, so we're going to need to talk later, and I'm going to need a little bit more about you so we can make this whole thing work."
That '70s Show mom Debra Jo Rupp is playing another show mother, but this time, her character isn't the giggly, frumpy matriarch. When asked how the character is different, she said, "I think she's prettier. She's got more of an edge. It's New York City, you know, as opposed to Wisconsin. And I'm just so excited to play this side of myself that I think a lot of people have not seen."
Creator Goldberg-Meehan, whose writing career includes Friends, said she's not worried that Better With You is another relationship comedy. "I would have to believe that the world of romantic comedy is big enough for everybody." Also, she gleaned inspiration for the show from her own life, having been in a similar situation as Maddie, in a relationship for 13 years without being married. "People seem to be really fascinated with, 'When are you going to get married?' I noticed Jon Hamm was just interviewed and that was his first question . . . so I thought that would be something interesting to see on television that we hadn't quite seen yet."