Betty White Celebrates Her Lifetime of Achievements
Betty White was the recipient of the SAG's big Lifetime Achievement Award, and she headed into the press room afterwards to chat about her honor. She looked radiant in her bright dress, which featured an unexpected slit Betty was happy to show off when she wasn't praising her good friend Sandra Bullock. She said: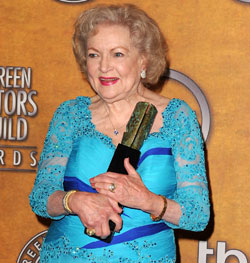 On her big win: "I am not going to be fit to live with for the next years."
On who she gets starstruck by these days: "I've never met him but Robert Redford is my standard answer to anything. I will tell you very close to the very top of that list is one Sandra Bullock, she's the epitome of what a movie star should be...she's the most down-to-earth human being. I just can't say enough about her. "
On the unexpected slit up her dress: "You gotta use everything you possibly can!"