Betty White Wins the Screen Actors Guild Award For Outstanding Performance By a Female Actor in a Comedy Series 2011-01-30 17:46:54
Do You Agree With the SAG Winner For Female Actor in a Comedy Series?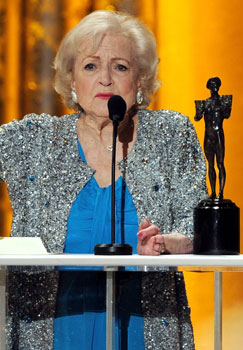 Just when you thought Betty White fever is over, the woman goes and wins an award. White is this year's SAG winner for outstanding performance by a female actor in a comedy series for Hot in Cleveland! She beat out Tina Fey, Sofia Vergara, Edie Falco, and Jane Lynch! Do you agree with this win?
Don't forget to vote in all of my SAG winners polls!