The Big Year Movie Review
The Big Year: For the Birds
I have to give The Big Year some credit for straying from the idea that comedies either need to be raunchy, romantic, or dumbed down for kids these days. The film feels more like an old-fashioned comedy, before the genre became overrun with fart jokes and one actor playing every role himself. Though it won't make you roll your eyes, the downside is that The Big Year won't really make you laugh, either.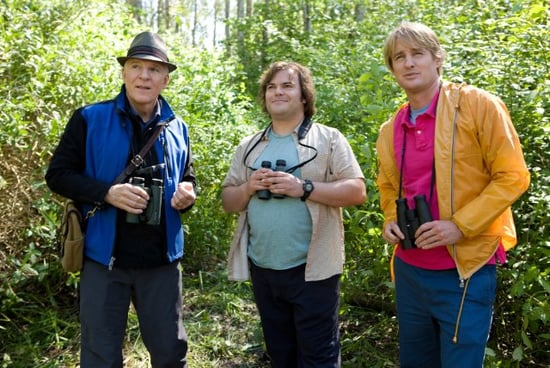 As three very different birders (that's "bird-watchers" for you amateurs) determined to see the most species in the span of a year — aka, a "big year" — Owen Wilson, Jack Black, and Steve Martin turn in genuine and likable performances. The film has heart and a feel-good message, but watching three dudes check out woodpeckers through their binoculars is about as boring as it sounds.
To find out why The Big Year never really gets off the ground, just read more.
Wilson, Martin, and Black bring their characters to life with ease, because they're all playing roles you've seen them in before. As Brad (who also serves as the film's narrator), Black is an amiable, happy-go-lucky guy who's looking to get his life back on track after getting a divorce and moving in with his parents. He finds happiness in his new friendship with Stu (Martin), who's going after a big year to justify all the years he spent climbing the corporate ladder instead of doing what he really loves. Both guys are trying to take down the cocky current birding champ, Kenny Bostick (Wilson), whose fear of losing his crown is even more encompassing than his commitment to his wife.
The film drifts in and out of each character's personal life, showing how their time spent tracking birds is affecting their loved ones, and more important, their outlook on life as a whole. Brad and Stu are both easy to root for, and even Wilson's Bostick has his moments and one-liners despite some morally reprehensible actions. The problem is that their journeys are all equally anticlimactic. By the time the film reaches December (the end of the year), I wasn't any more invested in the competition than I was at its inception.
The Big Year is a family comedy that steers clear of being offensive, but it's more unremarkable than it is amusing.