Biutiful Review Starring Javier Bardem
Biutiful: Beautiful Indeed, but Difficult to Watch
If you've been keeping your ear tuned to this year's award season buzz, then you've heard about Biutiful, Alejandro González Iñárritu's drama which has already scooped up Oscar nominations in both the foreign language category and for star Javier Bardem. It's a beautifully filmed, haunting piece of work, but clocking in at a solid two and a half hours, it's also a film that requires commitment from its audience. Is the payoff worth it? Yes and no.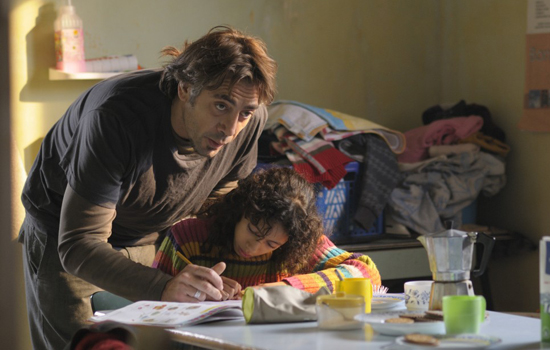 Bardem stars as Uxbal, a middle-aged father of two living in Barcelona. By day, he's a hustler of sorts, serving as a go-between for Senegalese illegals who sell handbags on the streets and the Chinese immigrants who produce the purses in a dilapidated basement. Uxbal makes deals with the two parties so he can put money in his pocket and food on the table for his children. He's separated from their mother, a bipolar alcoholic, so their primary care falls on his shoulders. The two roles make him quite the complex, mysterious man; one minute he's exploiting others, the next he's tenderly tucking his young boy into bed. But, there are plenty of other layers at work in the film as well. To find out what those are, along with my thoughts on Bardem's performance,
.
To make matters more complicated, Uxbal sees dead people. He attends funerals in order to listen to the deceased, and then relays their final messages to their loved ones. It's almost a sad irony then when Uxbal himself is diagnosed with terminal prostate cancer. After receiving the news, he starts making arrangements for his kids, and saving up money for their care. But, when an unspeakable accident occurs, Uxbal has yet another concern to deal with: a guilty conscience.
The film obviously has enough storyline to make for five separate movies. Not only does it try to pack in too much, but it's also a case of Murphy's Law on loop with one depressing scenario after another. It's partly saved, however, by Bardem's performance, which never once feels overly dramatic despite the weighty subject matter. Bardem controls each scene with subtlety, letting his eyes alone emote without having to force Uxbal's ever-looming sadness. But without him, Biutiful can't stand on its own. Between its emotional heft and artsy camera shots, the film veers into overindulgent territory. Perhaps Iñárritu could've taken a lesson from Bardem's understated approach: sometimes less is more.